Paul di Resta finished fourth with an impressive drive to give Sahara Force India Formula One team the best show so far this season at the incident-filled Bahrain Grand Prix on Sunday.
-Photos: Vettel wins without drama in Bahrain
-Bahrain stages Formula One race amid protests
Di Resta, who started the race in fifth place, missed the podium by 2.2 seconds at the Bahrain International Circuit.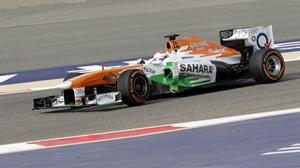 The Briton also led the race for a few laps before ending 2.2 seconds behind third-place finisher Romain Grosjean of Lotus, to bring home 12 points.
He equalled his best ever finish in F1 race. The last time he finished fourth was at the 2012 Singapore Grand Prix.
Teammate Adrian Sutil, who started sixth, finished 15th after an having a minor accident with Felipe Massa's Ferrari in the opening lap of the race. The German could not recuperate and had to settle for a non-point finish.
After Sunday's race, Di Resta and Sutil are eighth and 12th in the drivers' standings with 20 and six points respectively. In the constructors' standings, Force India are fifth with 26 points ahead of heavyweights McLaren (23 points).
Di Resta said he was happy with the speed of his car and looking forward to a podium finish.
"It's great to round off the fly-away races with a fourth place and a race that was probably my strongest Grand Prix. The podium was very close, but with our strategy we were always going to be vulnerable at the end of the race -- especially to Grosjean who had two new sets of medium tyres.
"I had a good start to the race, a strong opening stint and we showed our true speed today, but ultimately fourth place was the maximum that was possible. We will get on the podium one day, hopefully soon, but for now we can be very happy with the points we've scored today. I feel we managed to get 100 per cent out of the car," said the Briton.
His teammate Adrian Sutil said he was disappointed with the car puncture in the beginning of the race.
Team Principal and Managing Director Vijay Mallya said, "A tremendous job by the team and a wonderful drive by Paul saw us come within a whisker of podium. Although we missed out on third, the twelve points scored keep us up in fifth place in the Championship and give us every reason to be optimistic for the coming races. Of course, we could have achieved so much more had Adrian not picked up a puncture on lap one.
"We will focus on the positives and enjoy this fourth place, which has confirmed the pace of the car and shown once again that we can race up at the front and beat some of the top teams."
Photograph: Caren Firouz/Reuters