Adrian Sutil's 100th Grand Prix ended in disappointment having failed to finish the race even as Sahara Force India's lead over McLaren was reduced to just four points after a no-points show at the Hungarian Grand Prix, in Budapest on Sunday.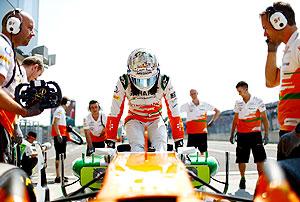 Paul di Resta, who began 17th on the grid, finished 18th, which meant that for the second time in a row, Force India have not added any points to their kitty.
In lap 19, Sutil's car suffered a hydraulic leak and after making a contact with Felipe Massa in the next lap he went to pitlane and the team decided to retire the car.
Jenson Button earned six points for McLaren with a seventh place finish to cut Force India's lead over the British team to just four. Force India remain on 59 while McLaren moved to 55 from 49.
It is third time this season that Force India have not scored a point, earlier missing out in Malaysia and Germany.
Their qualifying compromised, scoring points was a tough task for Sutil, who started 11th, and Di Resta.
Lewis Hamilton finally claimed his first victory of the season, capitalising on his pole position for the first time. He had three pole positions earlier in the season but never converted those into wins.
It was Hamilton's first win for Mercedes after leaving McLaren.
Lotus's Kimi Raikonnen pipped defending champion Sebastian Vettel in an intense battle to finish second ahead of the German in his Red Bull.
Photograph: Vladimir Rys/Getty Images