Hungarian Grand Prix qualifying turned sour for Sahara Force India drivers.
Nothing worked for the team and drivers Adrian Sutil and Paul Di Resta had to settle for 11th and 18th positions in Budapest on Saturday.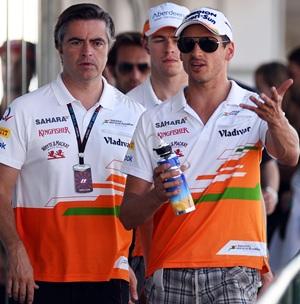 While Sutil managed to make it to Q2 on Saturay, Di Resta was eliminated in Q1 stage.
Sutil clocked 1:20.569s in Q2 but it was not enough to book his place in the Q3. Di Resta, on the other hand, had to bid goodbye in the first qualifying race after setting a poor timing of 1:22.043s.
Earlier, in the German GP too, Di Resta and Sutil settled for the 12th and 15th positions respectively.
It will be the second time that Sahara Force India will not start the race in the top 10.
Sahara Force India had registered their best qualifying performance of the season in the British GP with Di Resta and Sutil setting the fifth and seventh fastest times.
Image: Adrian Sutil Paul Di Resta and of Force India
Photograph: Lars Baron/Getty Images