Formula One star Lewis Hamilton lost a chance to win the Bahrain Grand Prix after his pit crew made the mistake of fixing his car during the race.
The British driver started second on the grid but had to settle for an eighth place finish, when his mechanic fiddled with the rear wheel-nut during two pitstops, which allowed Sebastian Vettel to win the race.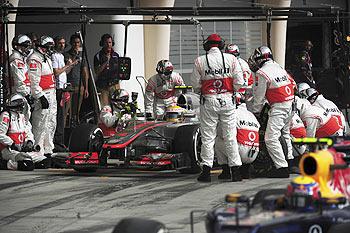 Hamilton suffered setbacks on laps nine and 23, which gave Vettel a clear run for the finish line. "Unfortunately the pit stops were not quick enough. My job's done. It is the team's job to sort that out and that is what they will do. We were not quick enough, for whatever reason. I don't know what the answer is, but there is only a certain amount you can do," The Sun quoted Hamilton, as saying.
Hamilton, 27, promised to check the mechanic who was at fault. He was later removed from his role as gunman for his final stop.
"I don't know who it is, but I will go and see the guy, try and lift him up. That's all I can do really, otherwise it's about doing my best and trying to remain positive," he claimed.
The pit problems cost Hamilton around 17 seconds in time, which happens to be the latest in his catalogue of race mistakes. He already suffered three problems in the Malaysian Grand Prix. However, McLaren team boss Martin Whitmarsh has promised to remove all errors for the next race in Barcelona on May 13.
Photograph: Dimitar Dilkoff / Pool / Reuters