Sahara Force India witnessed a good outing on Friday during the practice sessions for Sunday's Chinese Grand Prix as both their drivers recorded a top-10 timing with Paul di Resta lapping the eighth fastest time while Nico Hulkenberg was the ninth quickest, in Shanghai.
Di Resta clocked 1:36.966s in the FP2 for his fastest lap while Nico managed a 1:37.191s timing.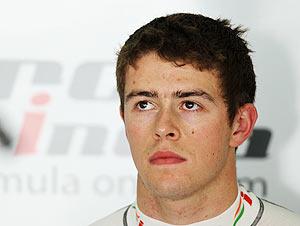 Seven-time World Champion Michael Schumacher set the fastest time of the day for Mercedes when he clocked 1:35.973s, just ahaed of McLaren's Lewis Hamilton, who was just 0.172 seconds behind the legendary German.
Force India's reserve driver Jules Bianchi took part in his first practice session in the morning. He managed P14 with a timing of 1:40.328s.
The lone Indian driver in the fray, Narain Karthikeyan of Hispania was second last in FP1 with a timing of 1:47.204s.
Even though he improved his timing in the afternoon session, Karthikeyan (1:41.125s) had to be content with the last position.
"It was a solid afternoon session and a positive start to our race weekend. The baseline set-up was pretty good to begin with and we just worked away at fine-tuning that during the session. As for the tyres, I would say the medium and softs are quite similar and we managed to get good data during the long runs on both compounds," Di Resta said.
Nico Hulkenberg said he was okay with the way car behaved in both the sessions.
"A very short FP1 with the mixed weather, but the running I managed was still useful because we did a few laps on the medium tyre towards the end of the morning. Then we had a very smooth FP2 in the dry conditions, which allowed us to complete all our objectives with long runs and tyre evaluation. Already I have a positive feeling in the car: it feels good to drive and I'm happy with the balance," the German said.
Binachi was obviously excited to be behind the wheels of an F1 car in his first-ever practice session.
"It was my first ever practice session in Formula One and my first time driving the Shanghai circuit, so there was quite a lot to learn. After the install lap the track was still a bit damp in places, but almost immediately it started to rain again so we decided to wait for conditions to improve. It was good to work with the team and any time in the car is always valuable experience," he said.
Photograph: Paul Gilham / Getty Images