India's Karun Chandhok will replace Jarno Trulli for Team Lotus at this weekend's German Grand Prix as the outfit continue their bid for a first ever Formula One point.
Chandhok raced for fellow strugglers Hispania for the first half of last season and was named Team Lotus reserve for this campaign behind Trulli and Heikki Kovalainen.
He gets his chance with the team deciding to offer "a step ladder to the top of world motorsport for talent from all over the world", a statement read.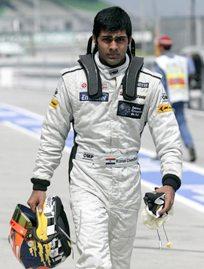 India is due to host its first Formula One race in October and commercial possibilities there are huge for teams.
"As a young Asian driver Karun faces even more obstacles to achieving his goals than his counterparts from the established motorsport homelands in the West, both from inside and outside F1, and I am very proud to be able to give him this chance on merit," team boss Tony Fernandes said.
The 27-year-old Chandhok was cock-a-hoop.
"I am approaching the weekend in a very realistic frame of mind. I will be doing my best to push and to make sure I learn as much as possible all weekend, take each session as it comes and work as closely as I can with the engineers and the whole team to do the best job I can," he said.
TRULLI CONTRACT
"Whatever happens, I am very excited about lining up on the grid on Sunday and I know there will be millions of Indian fans, and Team Lotus fans around the world, who will be behind me and the whole team, so I will do the best I can to give them something to cheer for."
There was no word on whether the change halfway through the year was just for one race and if Chadhok will have the chance of racing in his home grand prix.
Despite the setback, Trulli need not be too downbeat with a new deal on the way.
"I also want to take this chance to thank Jarno for helping make Karun's opportunity this weekend possible," Fernandes added.
"He has been extremely accommodating in stepping to the side for this race and our commitment to him is unwavering. I am delighted to confirm that we are in the process of negotiating an extension to his contract with us."
Force India owner Vijay Mallya told Reuters this month he was upset by home fans bemoaning his lack of an Indian driver.
India's Narain Karthikeyan races for Hispania.