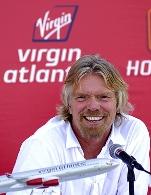 On the coming Labour Day, Virgin Atlantic boss and billionaire Sir Richard Branson will try his hand at a new job - as a stewardess on budget airlines AirAsia's long haul flight.


AirAsia CEO Tony Fernandes tweeted "its official", referring to Branson's on board stint when he will don AirAsia stewardess uniform and high heels on May 1.

"Special AirAsia X flight. Seats on sale at AirAsiaGo. All money (will go) to charity. DJ and Eddie Jordan will be performing," he said in his tweet.

Branson had lost a bet to Fernandes and was to serve as a "stewardess" on the AirAsia X flight from London to Kuala Lumpur on February 21.

However, the date was put off after the billionaire injured his knee and could not put on the high heels to go with the stewardess outfit.

Branson, who owns the Virgin Racing Team, had bet that his cars would do better than the Lotus Racing team of Fernandes.