Former India goalkeeper Baljit Singh continues to parry shots as well as retirement talk despite being told he was surplus to requirements after damaging his eye two years ago.
A reflex practice session in 2009 went horribly wrong when a golf ball sneaked through the grill of his helmet and surgeries in Delhi and the United States failed to repair the globe rupture and revive full vision in his right eye.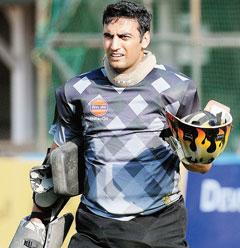 Although fighting his way back into his state team and winning an invitation to national trials in Bangalore last month, the 30-year-old Punjabi was disappointed when overlooked for the Asian Champions Trophy in China, and furious when coach Michael Nobbs and officials told him to give up international hockey in favour of a coaching role.
"Who wants a coaching job? Not me," an incensed Baljit said.
"I didn't go to the camp to listen to advice. I would continue playing. I didn't ask them when I started playing hockey and won't ask them either when I quit. I'll go on my own."
Baljit, India's top keeper from the 2006 Commonwealth Games until that 2009 accident in Pune, said selectors had cited his incomplete peripheral vision for his omission and not judged him on his performance.
"I would understand if they tell me that my performance was not up to the mark," he added.
"There were 12 goalkeepers among the 90 players in the camp and it's natural that if there is a better goalkeeper around, he would replace me. But why make an issue of my vision when you already know everything about it?"
Baljit has returned to Chandigarh in his home state to keep training and said he had revelled in ignoring advice from sceptics and well-wishers throughout his career.
"I have been stubborn all my life. I know the virtue of obduracy and my career would have never taken off had I listened to others.
"Early in my career, I had a nagging back injury and the team physio said a surgery would solve the problem but I should stop playing. I told him 'thank you' and kept playing.
"I dislocated my shoulder in 2001 and was advised a surgery at the cost of my career. Again I ignored the advice and kept playing through pain until a surgery fixed it in 2005."
Despite the odds of a national recall stacked against him, Baljit has drawn inspiration from similarly challenged sportsmen.
"(Mansur Ali Khan) Pataudi had a damaged eye but nobody stopped him from leading the Indian cricket team. And he led with distinction," said Baljit, referring to the India captain from 1962-1970 and 1974-75.
"I read (former England soccer goalkeeper) Gordon Banks continued playing after losing vision in his right eye. So why can't I?"