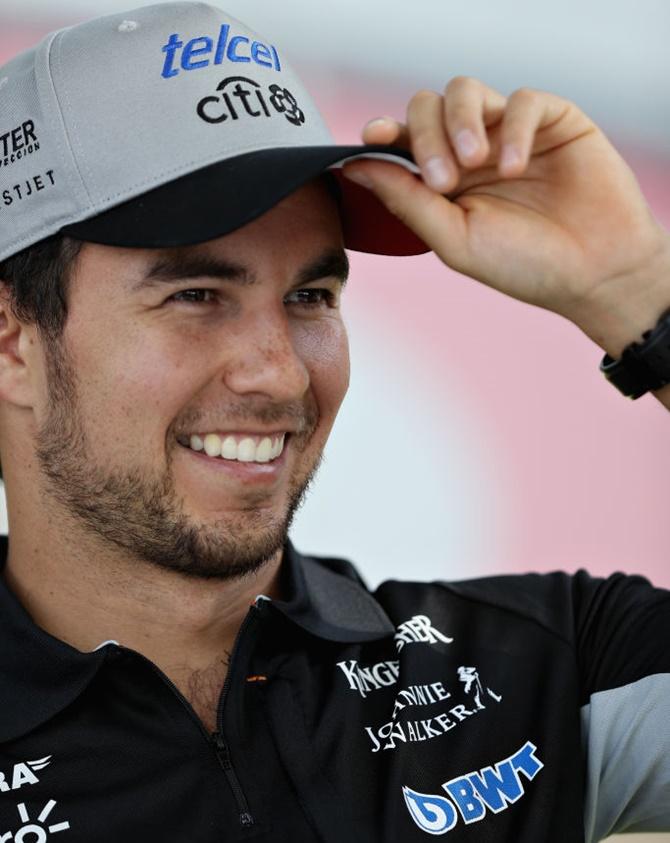 IMAGE: Sergio Perez of Mexico and Force India . Photographs: Mark Thompson/Getty Images
Sahara Force India made a promising start to the 2017 Formula One season with a double points finish through Sergio Perez and Esteban Ocon at the Australian Grand Prix in Melbourne, on Sunday.
Perez, who was on 11th spot on the grid, made two bold moves to finish the 57-lap race in seventh place.
It was a memorable race for Econ as he scored his first point in Formula 1 on his Force India debut, passing two-time World Champion Fernando Alonso to secure 10th place.
Force India collected seven points from the weekend, one less than Williams with Felipe Massa finishing sixth.
The Silverstone-squad had finished a record fourth in team standings last year, beating the likes of Williams and McLaren.
Perez said it was a satisfying result.
"I am very pleased with the result and I don't believe there is anything we could have done better today. Seventh place was the most we could achieve and the team had to make all the right calls to get this result," said Perez.
"We had the correct strategy and we managed the tyres well to bring the points home. We still had to pull a few big moves on Kvyat and Sainz, even though it was not easy to overtake, but once I was in clean air I felt I was in a very strong position.
"Driving these cars is so much fun: you can push a lot harder than in the past and I was doing my fastest laps towards the end of the race. We know we still need to improve this car and there is more performance to come," added the Mexican.
Ocon, who started 14th on the grid, enjoyed his battle with Alonso.
"Scoring my first point in Melbourne is a very nice reward after what has been quite a tough weekend," said Ocon
"I spent almost the entire race fighting against Fernando (Alonso) because we were side-by-side for the first lap of the race. He was able to stay ahead and I had to chase him for the rest of the afternoon.
"It was a hard fight because Fernando is a tough opponent and it was so difficult to get close and overtake. Eventually I found a gap in the last few laps and took my chance going into turn one. It was a big moment for my race and took me into the points."