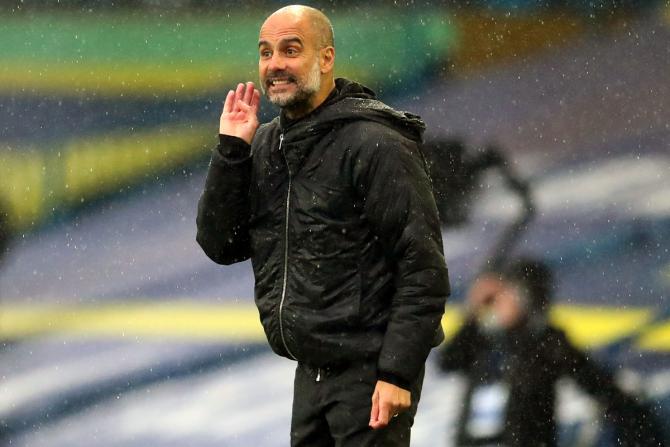 Manchester City boss Pep Guardiola has called for a reduction in the number of clubs in the Premier League and English Football League to improve the quality of competition amid talk of a breakaway European Super League.
The concept of a European Super League, as an alternative to European soccer governing body UEFA's flagship Champions League, has been floated for years but speculation has increased in the past two years.
The Times newspaper said it had seen a proposal for the Super League that outlined plans for a competition with 15 founding members and five other clubs qualifying annually.
The plan envisages the 20 clubs being split into two groups of 10 and playing between 18 and 23 European matches a season. But Guardiola declined to be drawn into a discussion about it and said it was important to strengthen domestic leagues.
"I have the feeling that we cannot lose what local leagues mean -- what it means to play the FA Cup ... what it means to play in the leagues," Spaniard Guardiola said ahead of Saturday's FA Cup clash with fourth-tier Cheltenham Town.
"What we should do is make every league in Europe stronger than what it is, less teams, better championships, better League One, better League Two, better Premier League with less teams in every competition. Go to quality over quantity.
"You have to make a super Premier League ... for that you have to reduce teams. But we can't kill lower divisions or the Premier League.
"That's something that is so important. It's not about other benefits, it's about how important sentimentally it is having your own league for every country."
Soccer's global body FIFA said that players who feature in any breakaway European Super League would be banned from FIFA competitions, including the World Cup.
De Bruyne out for up to six weeks due to injury, says Guardiola
Manchester City midfielder Kevin De Bruyne will be out for four to six weeks due to an injury he picked up in their last game, manager Pep Guardiola said on Friday.
De Bruyne, 29, sustained what appeared to be a hamstring injury and was replaced on the hour mark at the Etihad Stadium in Wednesday's 2-0 Premier League win at home to Aston Villa.
"Kevin, like the doctor said today after reviewing the scan, will be 4-6 weeks out," Guardiola said before Saturday's FA Cup fourth-round tie at fourth-tier Cheltenham Town. "It's a big blow, but we have to move forward.
"I'm not saying anything that anyone doesn't know, it is unfortunate for him and for us and we have to find a solution because everyone in their own life is struggling in the situation we are living and we have to adapt."
The Belgian will likely miss next month's game away to league champions Liverpool, their home game against fifth-placed Tottenham Hotspur and a trip to Mikel Arteta's Arsenal.
Guardiola said defender Kyle Walker, who went off in the first half against Villa after a collision with Jack Grealish, will miss Saturday's game.
"Kyle had a big impact kick in his hips, but just a kick, so is not available tomorrow but we wish he is available for the next game (away to West Bromwich Albion on Tuesday)," he said.
The Spaniard also said City's record scorer Sergio Aguero felt tired after testing positive for COVID-19.
"He felt uncomfortable in the first three days after testing positive. He felt quite tired, with all the symptoms you get," Guardiola said.
"Hopefully he can recover well and step by step return to the training sessions. We have missed our best striker for a long time but we have lived without him and we need to wait for them to come back as soon as possible."
Leicester's Vardy to have hernia operation, says Rodgers
Leicester City's in-form striker Jamie Vardy will be sidelined for a few weeks to have a hernia operation, manager Brendan Rodgers said on Friday.
Vardy, 34, has scored 11 Premier League goals this season and is in the running for the golden boot but Rodgers said the hernia operation could not be put off any longer.
"Jamie Vardy will be out for a few weeks. We've been managing him over these number of months and he's been fantastic but we have a window now that allows him to have an operation on his hernia. Then he'll be back," Rodgers told reporters.
"It's one that doesn't keep him out for too long. It's a repair around that area. It's one that we feel we can't put off much longer.
"This is a window where we can get it done. That will leave him with a good opportunity to be influential."
Leicester, who visit Brentford in the FA Cup fourth round on Sunday, play Everton, Leeds United, Fulham and Wolverhampton Wanderers in the league in the coming weeks before hosting champions Liverpool on Feb. 13.
Rodgers said he expected Spaniard Ayoze Perez to fill the void in Vardy's absence, even if he does not have similar traits such as the English striker's pace.
"We've played without Jamie before and scored and won," Rodgers added. "When you don't have one of the top strikers in the league, it's always going to be disappointing.
"It's not overly concerning. It's our best chance of getting him back. Ayoze Perez is a natural striker, he doesn't threaten the backline as quickly as Vardy but he's a great finisher."
Beckham defends hiring pal Neville
Forced to operate from a distance last year due to the COVID-19 pandemic, David Beckham promised on Friday to be the hands on owner he said he would be and defended hiring his friend Phil Neville as Inter-Miami coach.
Despite qualifying for the Major League Soccer playoffs in their debut campaign in 2020, Beckham said he was not happy with the culture within the club he co-owns with Jorge Mas and started the new season by sacking manager Diego Alonso and bringing in former Manchester United team mate Neville.
"I knew pretty soon that we as an ownership group needed to make changes and I think it was better doing it sooner rather than later," former-England captain Beckham told a news conference to introduce Neville.
"It was pretty evident it wasn't exactly how I wanted and how I envisioned our team playing."
With a thin coaching resume, Neville's hiring raised eyebrows with some seeing the move based more on friendship than ability.
Neville arrived in Miami from his position as England women's team manager having never filled the same position for a men's team.
But Beckham made no apologies for the decision touting the 44-year-old former England defender as the right man to bring the culture and work ethic he wants Inter-Miami to be known for.
"Of course, people are always going to turn around and say, "Oh he's your friend," explained Beckham.
"It had nothing to do with him being my friend.
"I am owner of a club with Jorge, our ownership group don't just employ our friends, we employ the best people whether it is on the field off the field.
"We are running a serious soccer club here.
"He's the right man for the job."
Villa's Smith 'reluctantly' accepts FA charge for insulting officials
Aston Villa manager Dean Smith said on Friday that he "reluctantly" accepted an FA charge for insulting the match officials during a 2-0 loss to Manchester City earlier this week.
Smith had been charged for allegedly using abusive language towards referee Jon Moss, who showed Smith a red card on the touchline in Wednesday's match.
"I will reluctantly accept it but I will accept the charge for insulting the officials, I certainly didn't abuse them and that will be the end of the matter," Smith told reporters ahead of Saturday's Premier League home game against Newcastle United.
"I don't regret asking the referee if he had juggling balls for Christmas. That's my way of dealing with the situation, with a touch of sarcasm."
The FA said later on Friday that Smith was handed a one-match touchline ban and fined 8,000 pounds ($10,942.40) after admitting the charge.
Smith was furious following Bernardo Silva's opening goal, which came about after his City team mate Rodri came back into play from an offside position to provide the assist, saying it was an "obscure law" that not many were aware of.
"It just shows you when there are different interpretations of a law how different it can be because we've had two situations on the same night, two games in quite a unique situation," Smith added.
"If they don't change that law I'm sure everyone can see where that law can go... That's the first time it's happened in my 500 games of managing.
"We have moved on. The next game is Newcastle and we're looking forward to that."
Struggling Newcastle, 15th, have not won any of their last nine games in all competitions and Smith said he wanted to ensure Villa extended that run.
"They have good players, and we will be very wary of them," he said.
"We have to make sure that our game isn't the one where they get out of the rut that they are in at the moment."