News of all that's transpired on and off the football field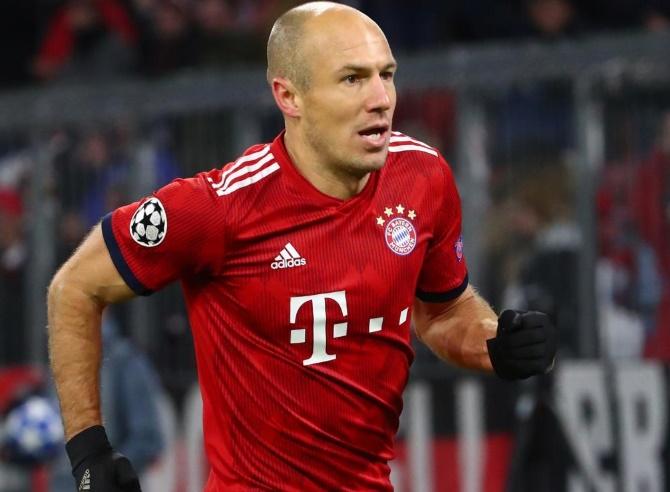 Bayern Munich winger Arjen Robben has described Anfield as his 'worst stadium' as he prepares for a return to face Liverpool in the Champions League last-16 clash on Tuesday.
Dutchman Robben has some unhappy memories at the home of Liverpool, having suffered elimination from the European competition twice with Chelsea in 2005 and 2007, and with Real Madrid in 2009.
"I think, if you ask (about) the worst stadium for me, it's probably Liverpool," the 35-year-old told The Guardian.
"You always have your favourite opponent and there always has to be a negative one."
Robben, who is battling to overcome a thigh injury ahead of the fixture, said he remembers Liverpool as a "cup fighter team" but during his time at Chelsea were never seen as one of the contenders for the Premier League title.
That has changed this season as Juergen Klopp's side are level on points with league leaders and defending champions Manchester City with a game in hand.
"In one or two games they could really live up to it and perform; just not the whole season, which was maybe too much," Robben added.
"Now I think it changed and they developed really well. The manager has done a great job."
"Last year they were in the Champions League final and at the moment they are top (of the Premier League). It's a long, long time ago that they won the league and that's the one they're dreaming of."
Sanchez worried over losing his spark at Man United
Manchester United forward Alexis Sanchez is concerned people may not have seen his best at Old Trafford as he continues to fight for an extended run of playing time this season.
The Chile international is a shadow of the player he was at Arsenal, having scored just five goals in 37 appearances since moving to United in January 2018.
"I would like to have brought more joy to the club," Sanchez told the BBC.
"Yes, it worries me because I believe in my abilities as a player, I want to show it."
After struggling for form and fitness under former manager Jose Mourinho, Sanchez has fallen further down the pecking order under caretaker boss Ole Gunnar Solskjaer.
"He (Solskjaer) hasn't spoken to me a great deal about what I have to do on the pitch, but I think I'm an experienced player and I think I know what I need to do and what I shouldn't do," Sanchez added.
The 30-year-old is behind Marcus Rashford, Jesse Lingard and Anthony Martial in contention for first-team spots and did his chances no good after an underwhelming display as a substitute in Tuesday's Champions League defeat by Paris St Germain.
Sanchez, however, confirmed he was injured after an assistant referee ran into him as he warmed up on the sidelines.
"I've got bruising but that's not an excuse for not being on my game in the way that I normally am," he said.
"I'm a player that, if I'm not in contact with the ball, I lose that spark, and sometimes I want to play in every game. You're in, you're out, and I'm used to playing."
"It's not an excuse because if I go on for 10, 20 minutes, I have to perform because that's what I'm here for, to make a difference."
United next face FA Cup holders Chelsea in the fifth round at Stamford Bridge on Monday.