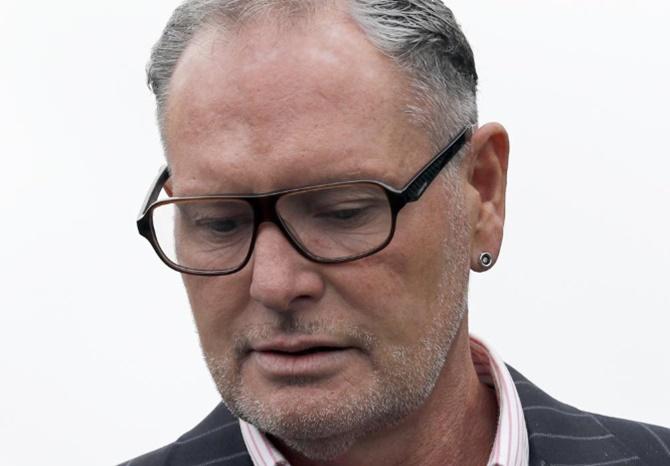 Former England midfielder Paul Gascoigne has been charged with committing sexual assault on board a train, police said, on Monday.
Gascoigne, 51, a former Tottenham Hotspur and Newcastle United player, widely known as Gazza, was arrested at Durham train station in northern England in August and released while police investigated the incident.
"Paul Gascoigne, of Leicester, was charged via postal requisition with one count of sexual assault by touching," British Transport Police said in a statement.
Gascoigne is due to appear in court on Dec. 11. His management company did not immediately respond to a request for comment.
Gascoigne, who has spent several spells in rehab battling alcohol and drug addiction, played 57 times for England between 1988 and 1998.
He made international headlines during the 1990 World Cup in Italy, bursting into tears after receiving a yellow card in England's semi-final against West Germany which would have seen him suspended for the final if England had qualified.
Spain, Portugal propose 2030 World Cup bid with Morocco
Spain and Portugal are considering a joint intercontinental bid with Morocco to host the 2030 World Cup, Spanish Prime Minister Pedro Sanchez said.
Sanchez was on a visit to the Moroccan capital of Rabat and met with Prime Minister Saadedin Al Othmani and King Mohamed to discuss the possibility of bidding for world soccer's global showpiece tournament.
"I made a proposal to the government (of Morocco) to organise a joint bid between Spain, Portugal and Morocco to host the 2030 World Cup," Sanchez told a news conference.
"We are launching a joint message, which is that this will be a bid between two continents. The King of Morocco is receptive, and we're going to work on it with Portugal. We're very excited about it."
Spain, the 2010 world champions, hosted the 1982 World Cup and launched a failed bid along with Portugal to stage the 2018 tournament which was awarded to Russia.
Portugal has never hosted the World Cup but held the 2004 European Championship in 2004 at which they lost in the final to Greece.
Morocco was unsuccessful in its campaign to stage the 2026 World Cup, which was awarded to a joint bid from the United States, Mexico and Canada.