News of all that transpired on and off the football field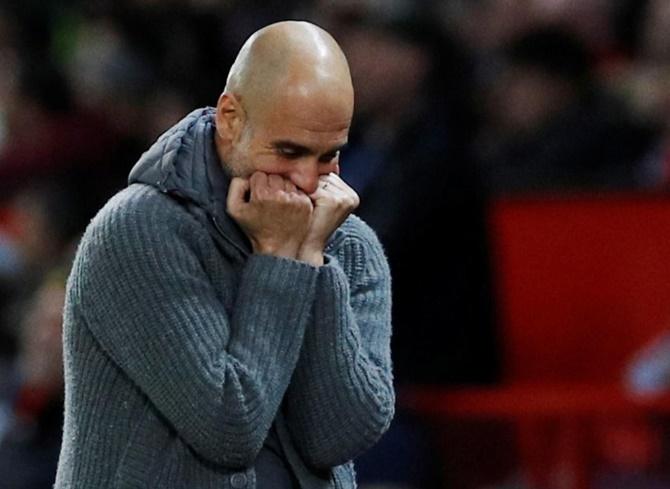 Manchester City's attempt to halt a UEFA investigation into allegations that the club breached financial fair play regulations has failed after its appeal to the Court of Arbitration for Sport (CAS) was thrown out on Friday.
CAS general secretary Matthieu Reeb told reporters that the Premier League champions' appeal had been judged inadmissible.
UEFA had opened an investigation into City over potential breaches of its break-even rule in March after German publication Der Spiegel reported the club's Abu Dhabi owners inflated sponsorship agreements to comply with requirements.
In May, UEFA investigators referred the case to the Club Financial Control board's judicial body.
City appealed in June against that decision, saying at the time that UEFA investigators had ignored "a comprehensive body of irrefutable evidence provided by Manchester City".
FFP rules are intended to prevent clubs receiving unlimited amounts of money through rich owners and inflated sponsorship deals. Clubs who have breached the rules can ultimately be barred from European competition but negotiated settlements are more common.
Mahrez excused from Algeria international for personal reasons
Algeria captain Riyad Mahrez has been excused from travelling to Botswana for their African Cup of Nations qualifier on Monday for personal reasons, his coach said on Friday.
Mahrez provided an assist on Thursday as Algeria romped to a 5-0 home win over Zambia in Blida at the start of the 2021 Cup of Nations qualifiers.
Yet he did not travel on Friday for their second game in Group H because of what coach Djamel Belmadi termed "a personal problem that requires us to let him go," without offering any further explanation.
The Manchester City attacker was one of Algeria's key figures when they won the 2019 Cup of Nations title in Egypt.
Belmadi did not pick a replacement for the trip to Gaborone.
Bale more excited to represent Wales than Real Madrid
Gareth Bale has risked deepening the rift between himself and his club by declaring he prefers playing for Wales than for Real Madrid ahead of his country's crucial Euro 2020 qualifier away to Azerbaijan on Saturday.
Bale has not featured for Real since a 4-2 win over Granada on Oct. 5 after injuring himself in Wales' last game against Croatia, with coach Zinedine Zidane declaring last Friday that the forward was not fit enough to play for his club.
"I definitely have a bit more excitement playing for Wales. With Wales, I'm speaking my own language and feeling more comfortable," Bale told a news conference ahead of Saturday's game in Baku.
"I've been with most of the players, especially the older ones, since we were in the Under-17s. It's like playing with your mates down the park on a Sunday.
"But it still doesn't change what I give on the pitch. I always give 100% wherever I am, and that's what I always strive to do."
Bale has won four Champions League titles with Real, scoring crucial goals in two finals, but has long had an uneasy relationship with the club.
Coach Zinedine Zidane said in the close season that he wanted to sell the former Tottenham Hotspur player, declaring: "If he leaves tomorrow then all the better".
Bale's frequent injury problems have been a bone of contention, while he has also been criticised in the media for leaving matches he is not playing in before the end.
Bale's inclusion in the Wales squad despite his injury problems has led to fierce criticism among the Spanish media, with newspaper AS continuing to question the forward's commitment to the 13-times European champions.
"Maybe to them (the Spanish press) it doesn't look great but it's just a kind of coincidence that the national team comes around this week and I've returned to full training," added Bale.
"If I'm fit, no matter where I am, I'm going to try and play, whether it be for Wales or Madrid. For me it was a no-brainer: if I'm fit to play then I'll give it my all."
Bale was one of Wales' key players in their thrilling run to the semi-finals of Euro 2016 but his side are in danger of not qualifying for Euro 2020.
They are fourth in Group E on eight points and will be out of contention in the group if they lose to Azerbaijan, although they could still qualify for the tournament through the playoffs.
Germany not among Euro 2020 favourites: Loew
Germany will not be among the tournament favourites if they qualify for next year's Euro 2020, coach Joachim Loew said on Friday ahead of their final two qualifiers.
The Germans, who take on Belarus on Saturday before facing Northern Ireland on Tuesday, are level with leaders Netherlands on 15 points. Northern Ireland are third on 12. The top two earn automatic qualification and Germany could qualify as early as Saturday.
"We don't belong to the tournament favourites," Loew told reporters.
"France, England have been playing with the same players for years. There are the Dutch, Spain."
"Us, with our young team, we are not among the favourites because we are still in the process of change."
The Germans suffered a shock group-stage exit at last year's World Cup and were relegated in the inaugural Nations League, promoting a major overhaul of the team.
"Maybe in two or four years when the players are at their peak. I mean a lot is possible with this team and we are working on that because it does have a lot of quality."
Loew has had to struggle with a lot of absences in recent months and his young team has rarely played with the same starting lineup, delaying, as he said, its development.
"We have had games where we played really well over 45 minutes and when I was surprised at how well some things worked," he said. "But we have not yet managed to do it over 90 minutes against tough opponents. That is the job we have."
Loew said the situation was similar to that of the 2010 World Cup when injuries had forced several last-minute changes and the young team, that included Mats Hummels, Jerome Boateng, Mesut Ozil and Manuel Neuer among others - reached the semi-finals.
It also formed the backbone for the 2014 title-winning team in Brazil.
"It is a bit like the situation in 2010. But to play for the title will be difficult. There are things that are possible but we don't have the favourites role this time," said Loew.
La Liga plans to take game to Miami halted by court decision
La Liga's hopes of staging Villarreal's game with Atletico Madrid on Dec. 6 in Miami have ended after a local court declined a request to grant an injunction against the Spanish soccer federation (RFEF), who oppose playing the match abroad.
The league's organising body filed a complaint against the RFEF last year over the latter's refusal to authorise playing regular season matches outside Spain, claiming the RFEF did not have the authority to block the move.
That complaint will be heard next February.
"Madrid's Mercantile Court No. 12 today decided not to grant interim measures to stage an official La Liga match in Miami in a case about the pending authorisation from the Spanish Football Federation (RFEF)," said a statement from La Liga.
"La Liga respects this decision, which does not prejudge the substance of the matter, which will be permanently settled in February 2020. Staging an official match abroad is part of a long-term La Liga strategy for international growth."
It is the second time the league has been unsuccessful in its bid to play regular season matches abroad, after Barcelona withdrew from plans to play a league game last January against Girona in Miami, citing a lack of support.
La Liga and the RFEF have been at loggerheads since the league signed a 15-year deal with US entertainment company Relevent in 2018, which included a commitment to play one regular season match in North America per year.
The RFEF announced on Monday that it is to stage the next three editions of the Spanish Super Cup in Saudi Arabia, but president Luis Rubiales stated that no other Spanish soccer competitions could be played abroad.
After Friday's ruling, Rubiales wrote to all 20 clubs in Spain's top flight to declare his wish for La Liga president Javier Tebas to be dismissed, citing four instances where the league had taken legal action against the RFEF.
"We reiterate our request for the 20 member clubs of La Liga to initiate dialogue with the federation and we call for the immediate dismissal of the president of La Liga or for him to resign immediately," Rubiales wrote.
"We also ask La Liga to halt its actions against the RFEF and to usher in a new era of mutual understanding and collaboration with new stakeholders."
Tebas responded by saying: "The RFEF call for my resignation every day, but the president of La Liga is chosen by the clubs and not the RFEF, they don't even have a vote."
African champs Algeria rout Zambia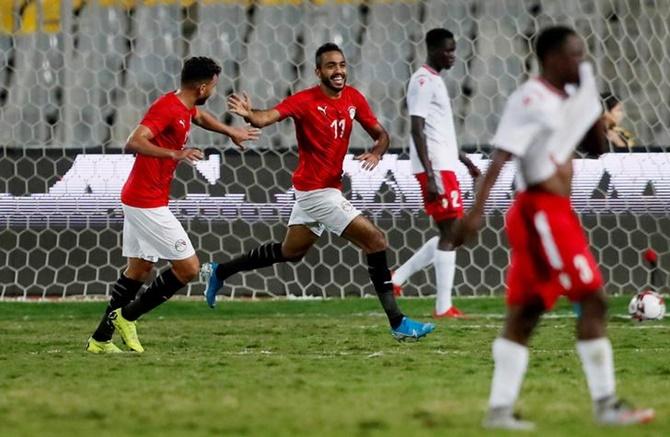 Algeria thrashed Zambia 5-0 on Thursday in a successful start to the defence of their continental crown, winning their opening qualifier for the 2021 African Cup of Nations 117 days after lifting the trophy.
Baghdad Bounedjah scored twice, one from the penalty spot, with Ramy Bensebaini, Youssef Belaili and substitute El Arabi Hilal Soudani completing a pleasing performance for the home fans in Blida.
Thomas Partey's long-range shot gave Ghana the lead and 19-year-old debutant Mohammed Kudus added the second in a 2-0 home win over South Africa in Cape Coast, but Egypt, who hosted the finals this year, were held 1-1 at home by Kenya.
Mohamed Salah's absence due to an ankle injury left Egypt looking ineffective in attack although they did take the lead when Mahmoud Kahraba picked up on a weak back pass.
Michael Olunga stunned the home crowd in Alexandria with a 67th-minute equaliser for Kenya.
Pierre-Emerick Aubameyang captained Gabon as they forced a goalless draw away to Democratic Republic of Congo in Kinshasa while Mali twice surrendered the lead as they were held 2-2 by Guinea, for who Naby Keita scored their first goal.
The Comoros Islands, who only became FIFA members in 2005, notched their first away win in a competitive international as Faiz Selemani scored early in the second half to beat Togo 1-0 in Lome.
The small Indian Ocean island nation host Egypt on Monday, looking to keep up their giant-killing start in Group G.
Mozambique beat Rwanda 2-0 at home in Thursday's other qualifier.
Qualifiers continue through to Tuesday, by which time each of the 48 participating countries will have played two matches each.
The top two in each of the 12 groups advance to the finals, to be hosted in Cameroon in mid-2021.
Premier League promises to improve and speed up VAR use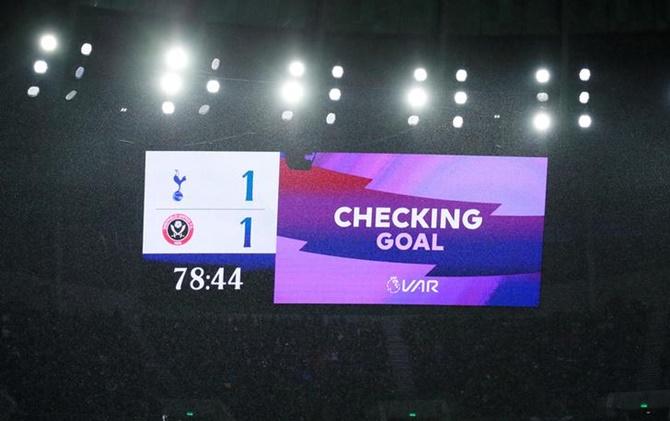 England's Premier League has promised to improve and speed up the use of the VAR system following several controversial decisions and widespread criticism from fans and pundits.
The Premier League, using the technology for the first time this season, said in a statement that VAR was discussed at length during a shareholders meeting on Thursday and Mike Riley, its chief referee, accepted that "improvement is required".
"The Premier League and PGMOL (match officials) committed to improving the consistency of decisions, speeding up processes and increasing communication to fans," it said.
Riley told clubs that speed and consistency of decision-making "are priority areas of work and will improve as the officials become more experienced with the technology and protocols".
More information will be provided to fans, such as explaining why an incident was being looked at, Riley said.
"Ensuring the pace and tempo of Premier League football remains an important focus for clubs," the statement added.
"The core principles of VAR were reiterated. These are minimum interference for maximum benefit, maintaining the pace and tempo of Premier League football and correcting clear and obvious on-field errors."
Unlike other leagues which use VAR, such as Serie A and the Bundesliga, Premier League referees do not routinely view incidents on the pitch side monitor and this is to remained unchanged.
"It was re-emphasised that it would be reserved for unseen incidents, or when information from the VAR is outside the expectation range of the referee," said the statement.
Aston Villa chief executive Christian Purslow told reporters there was a "very robust discussion".
"Messages to through to the league and the referees' association that fans are unhappy and many other stakeholders think we have got to do a whole lot better," he said.
Atletico's Costa suffers slipped disc
Atletico Madrid forward Diego Costa is set for a spell on the sidelines after suffering a slipped disc.
"The club's medical staff have done some scans on Diego Costa to assess the neck problems he has been suffering from in the last few days. Those tests have revealed that the striker is suffering from a slipped disc," said a statement from Atletico.
"In the next few days he will be assessed by neurosurgery specialists in order to establish a definitive treatment plan."
Atletico did not state for how long Costa would be out but Spanish media reports said he would miss Atletico's next La Liga game away to Granada on Nov. 23.
Costa, 31, has had a largely unsuccessful second stint at Atletico since rejoining the club from Chelsea in January 2018.
He has started eight of his side's 11 La Liga games this season, scoring two goals.