News of all that's transpired on and off the football field
Qatar to build World Cup stadium shaped like Arabian cap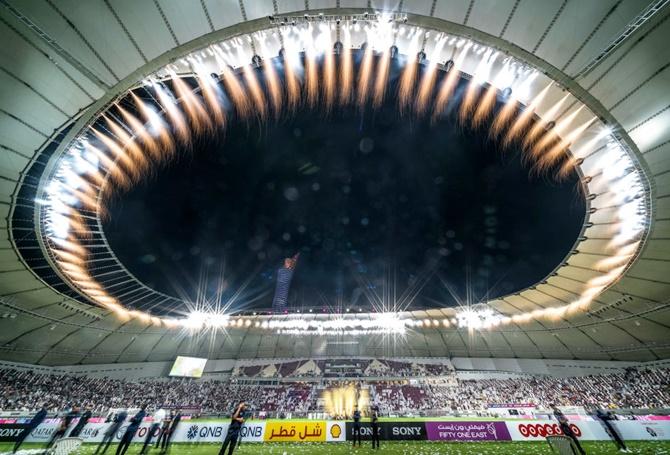 IMAGE: Fireworks are seen from the inside of the Khalifa International Stadium during the official opening ceremony. Photograph: Supreme Committee for Delivery & Legacy/Qatar 2022 via Getty Images
Qatar will build a stadium shaped like an Arabian skull cap for the 2022 World Cup, organisers said on Sunday, as the Gulf state moves ahead with preparations for the tournament despite a diplomatic rift with its neighbours.
Saudi Arabia, Egypt, Bahrain and the United Arab Emirates imposed sanctions on fellow U.S. ally Qatar in June and cut all transport links with the country, accusing it of supporting terrorism - a charge Doha denies.
To get around the boycott, Qatar has flown in food from Turkey and Iran and chartered ships via Oman to bring in construction materials needed for World Cup projects.
The tournament is the centrepiece of a strategy to project Qatar onto the global stage via sport.
Doha's Al Thumama stadium, designed by a Qatari architect in the shape of a traditional knitted "gahfiya" Arabian cap, will host 40,000 fans at a World Cup quarter final match, the country's 2022 organising body said in a statement.
"This symbolic design embodies everything that unites us as Arabs and Muslims, and is a fitting tribute to the first FIFA World Cup in the Middle East," said Hassan al-Thawadi, Qatar's 2022 committee chief.
The venue is one of at least eight air-conditioned stadiums Qatar is building along with a new port and metro system as part of a $ 200 billion infrastructure upgrade.
Qatar has denied reports the Arab sanctions have hurt tourism and lowered hotel occupancy rates.
Hamburg's Mueller out for seven months with torn ligament
Hamburg SV winger Nicolai Mueller will be sidelined for about seven months and will need surgery after tearing a cruciate ligament while celebrating a goal during the side's opening Bundesliga game on Saturday.
The 29-year-old Mueller scored the only goal of the match against Augsburg but as he raced towards the corner flag to celebrate with fans he stumbled over it and fell, tearing his ligament in the process.
He tried playing on but had to be taken off.
"This diagnosis is a big shock for us all and a heavy blow for Nicolai at the start of the season," Hamburg sports director Jens Todt said on Sunday after a medical check on Mueller.
Saturday's win was the first for Hamburg at the start of the season in seven years with the former European champions having narrowly avoided relegation in three of the last four seasons.