Manchester United expect to match record revenue in 2017-18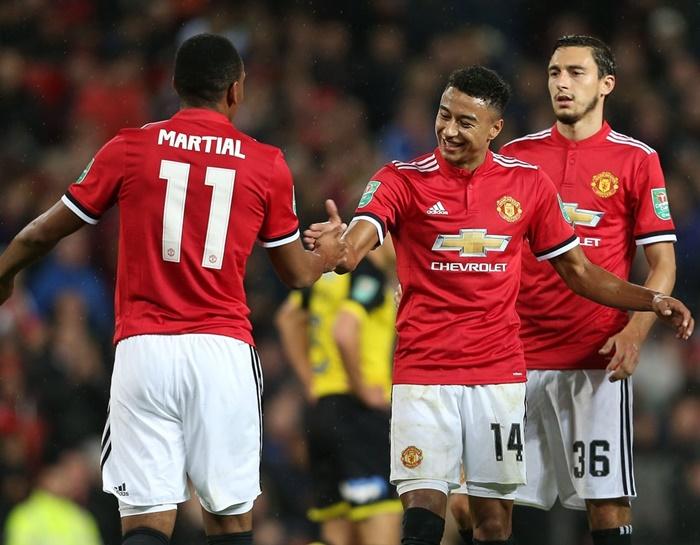 IMAGE: Manchester United players celebrate. Photograph: MUFC/Twitter
English soccer club Manchester United said it was likely to maintain revenue around last year's record level in 2017-18 as it returns to the lucrative European Champions League.
United, whose top players include Paul Pogba and Romelu Lukaku, are currently joint top of the English Premier League and have qualified for the Champions League after winning the second-tier Europa League last season.
Controlled by the American Glazer family, United forecast revenue of between 575 million pounds and 585 million pounds in 2017-18.
That would be broadly in line with record revenue of 581 million pounds ($782.8 million) in the year to June 30.
United reported core profit of 199.8 million pounds in the year. That figure was likely to slip to between 175-185 million pounds in the current year.
Wenger denies sending message to Sanchez with rare Cup start
Arsenal manager Arsene Wenger denied trying to send a message to Alexis Sanchez by playing him in the League Cup and Europa League and says midweek minutes have helped the Chilean close in on full fitness after an injury disrupted pre-season.
The striker made his first appearance in the League Cup since September 2015 on Wednesday, playing a full 90 minutes for only the second time this season as Arsenal beat third-tier Doncaster Rovers 1-0 at home.
The 28-year-old failed to secure a move away from the Emirates in the transfer window and injury and illness have limited his involvement to just one other full match - in the Europa League against FC Cologne.
"Look, there's no disguised attitude on my side," Wenger told reporters on Thursday when asked if he was trying to send a message to Sanchez by not starting him in Arsenal's last two Premier League matches against Chelsea and Bournemouth.
"I just try to get him back to full fitness and for me the Europa League and League Cup are important as well.
"Alexis Sanchez has been out injured and I thought he was still a bit short physically. I played him last night to give him competition.... I left him on for 90 minutes because I wanted him to have a real go."
Arsenal, who are 12th in the league after an indifferent start to the season in which they have won twice and drawn once in their first five games, host 10th-placed West Bromwich Albion on Monday.
West Brom have not won a point at the Emirates since 2010, but Wenger is expecting a strong defensive performance from Tony Pulis' side.
"They have the culture of the Premier League, a manager who knows how the league works. They are very strong on set pieces, solid defensively - it's tough to score against them," he added.
Mesut Ozil is back in training after missing Arsenal's 0-0 draw at Chelsea in their last league outing with a knee injury, but striker Danny Welbeck (groin) and defender Calum Chambers (hip) are out until after next month's international break.
Burnley sign goalkeeper Lindegaard as cover for injured Heaton
Burnley have signed Danish goalkeeper Anders Lindegaard until the end of the season following a shoulder injury to first choice Tom Heaton, the Premier League club said on Thursday.
Former Manchester United goalkeeper Lindegaard was a free agent after being released by Preston North End in May and had been training at the club.
Free agents can be signed by a club at any time during the season if they were released by their previous club before the end of the transfer window.
"I've had a good week here and I've had a very good impression of the whole club and all the people here. It's not hard to fit in nicely here," the 33-year-old told Burnley's website. (www.burnleyfootballclub.com)
"It seems like an honest place and a very hard-working place and I appreciate being a part of it... I am here to try and sharpen up the competition in the goalkeepers' department and we'll see what happens down the line."
Club captain Heaton dislocated his shoulder against Crystal Palace on Sept. 10 and had surgery last week.
Liverpool, Premier League agree compensation in 'tapping up' case
Liverpool and the Premier League said they have agreed on a compensation settlement with the family of an unnamed 13-year-old victim to finally resolve the 'tapping up' scandal.
Liverpool were fined 100,000 pounds ($135,040) and banned from signing academy players from the English league teams in April after breaching rules governing the transfer of youth players.
A joint statement from the club and the Premier League confirmed a deal had been reached with the 13-year-old involved to continue his current school and join another academy.
"The Premier League and Liverpool FC have reached a constructive agreement regarding the future education of a young player who was unable to register with the club," the statement said.
"Under the terms of the agreement, the player will be able to continue his education at his current school.
"He will also be free to join another club in the academy system without that club being required to pay compensation, which has been settled with his former club, Stoke City FC."
A league investigation found Liverpool guilty of offering prohibited inducements in an attempt to recruit a schoolboy from Stoke City.