News of all that's transpired on and off the football field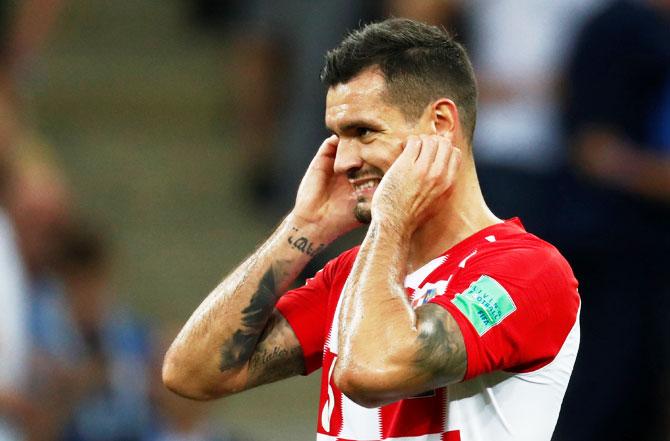 The Croatian state attorney has charged Croatia international and Liverpool defender Dejan Lovren with giving false testimony in a trial against officials of his former club, the attorney's office in the eastern city of Osijek said on Wednesday.
As is a usual practice in Croatia, the statement did not name Lovren but said it charged a 29-year-old Croatian citizen, citing details from his testimony given a year ago.
Croatian media, including the state television website, reported that Lovren was charged.
Lovren denied any wrongdoing in a post on his Instagram profile.
"I want to tell everyone that I'm innocent. I did not commit any criminal offence. I'm proud of my life, of what my family and I have achieved... I reject all accusations with indignation. I will win this battle," Lovren said.
In March this year, the state attorney also charged another Croatia international, Real Madrid midfielder Luka Modric, for false testimony in the same case.
Lovren testified at the trial of a tax official and three former senior officials from the soccer club Dinamo Zagreb, including its former chief executive Zdravko Mamic, about the dates of signing the annexes to his professional contracts which regulated transfer fees.
The Dinamo officials were charged with avoiding paying 12.2 million kuna ($1.92 million) in taxes and diverting 116 million kuna from the soccer club.. All of them denied any wrongdoing.
Lovren moved to Lyon from Dinamo Zagreb in 2010 and then joined Southampton in 2013 and Liverpool a year later. He and Modric both played in the Croatia team that was defeated 4-2 by France in the 2018 World Cup final.
A conviction for false testimony brings a jail term of between six months and five years.
Former Dinamo boss Zdravko Mamic fled to neighbouring Bosnia earlier this year briefly before being sentenced to prison in Croatia.
'Liverpool ready to compete for every trophy'
Virgil van Dijk expects Liverpool to be a threat for any opposition in four competitions this season but said the players will need to stay humble if they want to end a six-year trophy drought.
The Merseyside club have won all of their six matches this season, including Tuesday's dramatic 3-2 victory over Paris St Germain in their Champions League opener.
Van Dijk, who arrived at Anfield from Southampton in January, insists their faultless start to the campaign is just a small step on a journey the club hopes will end with a first trophy since the 2012 League Cup.
"We want to compete for every competition like we did last year, and we wanted to start well this time," the Dutch defender told British media.
"We've had a good start to the season, nothing has been won yet, we need to show it every week, every three days now.
"Everyone is excited, everyone is feeling good, everyone wanted to be part of this. And you know, we know the season is very long, we have four competitions to play in, and we want to win everything."
Despite showing improvement since the arrival of Juergen Klopp in 2015, Liverpool have lost three finals since the German took over at the club.
"You need to have ambitions, and with the size of this club, with the people around here and the history of the club," Van Dijk added.
"The season is just started, we have started well. We don't need to take anything for granted, we have to keep working hard and stay humble."
Liverpool host van Dijk's former club Southampton in the league on Saturday, before facing Chelsea in a blockbuster League Cup third round clash next Wednesday.
Ireland to join UK in exploring 2030 World Cup bid
The Football Association of Ireland (FAI) has announced it will join England, Scotland, Wales and Northern Ireland in exploring a potential bid to host the 2030 World Cup.
Last month, the English Football Association announced plans to conduct a feasibility study along with Northern Ireland, Scotland and Wales.
The FAI confirmed it will be joining the study after "recent positive discussions amongst all parties".
England, which hosted and won the 1966 World Cup, failed in bids to host the event in 2006 and 2018.
The 2026 World Cup will be hosted jointly by the United States, Mexico and Canada, while a South American tri-nation bid involving Argentina, Uruguay and Paraguay has already been announced for 2030.