'From the FIFA World Cup finals to the spot-fixing scandal that rocked Indian cricket, we pick the key sporting events on the 2014 calendar
1. Football World Cup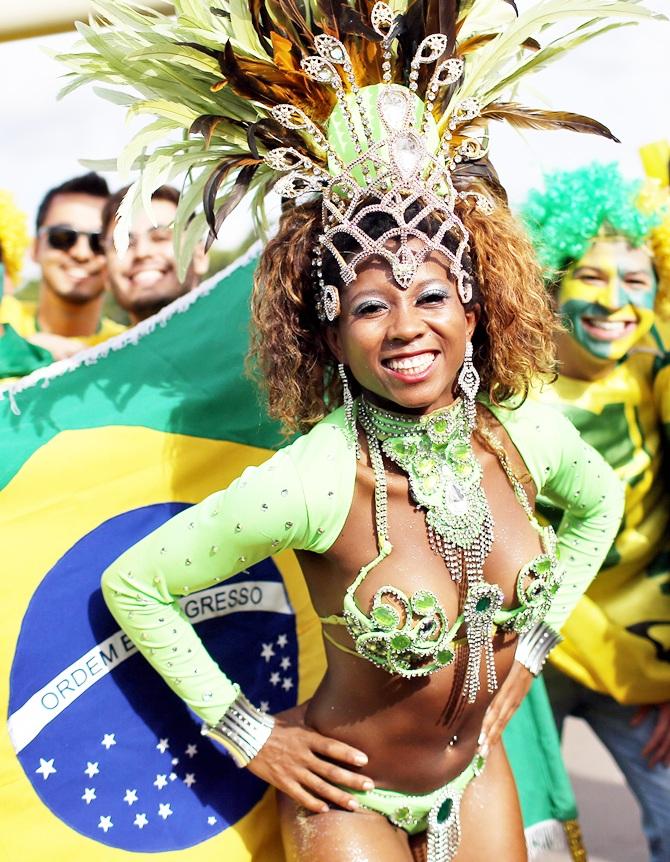 Football fans arrive before the Group A match between Brazil and Cameroon at Estadio Nacional. Photograph: Celso Junior/Getty Images
It began as a chance for fun-loving Brazilians to take back football's biggest honour but ended in humiliation for the hosts in what was widely regarded as one of the best ever World Cups.
After years of doubt whether Brazil as a nation would be ready for the quadrennial show, Germany emerged as champions, defeating Argentina in the final after destroying Brazil 7-1 in the semi-finals.
While the Brazilian loss may have been the tournament shocker, no incident garnered more attention than Uruguay striker Luis Suarez's bite of Italian Giorgio Chiellini. FIFA banned Suarez for four months, but the Court of Arbitration for Sport allowed Suarez to participate in friendlies with Barcelona's reserve team. He returned to full play in October.
2. Cricket being hit by the betting and spot-fixing scandal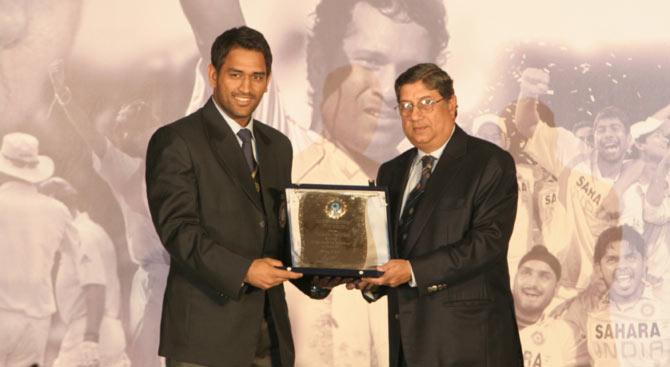 Narayanaswami Srinivasan (right) with India captain Mahendra Singh Dhoni. Photograph: BCCI
The Board of Control for Cricket in India's president-in-exile, Narayanswami Srinivasan, has requested the Supreme Court to allow him to contest the Board's elections, scheduled to be held next week.
He gave an undertaking in the Supreme Court that he will stay out of matters related to the Indian Premier League if elected BCCI president till he gets clean chit in the matter.
The apex court also expressed concern over cricket being hit by the betting and spot-fixing scandal.
The Supreme Court said maintaining the "purity" of cricket is of utmost importance for it, while hinting at setting up a high-powered committee to suggest measures to cleanse the game in the country.
Narayanswami Srinivasan told the Supreme Court on Monday that he is not at fault in the conflict of interest issue, as he had consulted former Board of Control for Cricket in India president Sharad Pawar before buying the Chennai Super Kings franchise in 2008.
Srinivasan said he sought Pawar's opinion before he bid for the CSK and was told that since the BCCI is a private company there would be no issue.
His counsel, Kapil Sibal, who appeared on his behalf in the Supreme Court for the hearing in the IPl betting and spot-xing case, said the BCCI's president-in-exile had done nothing wrong and had, in fact, taken immediate action against his son-in-law, Gurunath Meiyappan, after allegations were made against him and Rajasthan Royals co-owner Raj Kundra in the Indian Premier League spot-fixing and betting scandal.
When Srinivasan was asked about Mahendra Singh Dhoni, he made it clear made it clear that the India captain, who also leads Chennai Super Kings, would not be asked to resign despite questions about conflict of interest being raised against him.
3. Sochi Olympics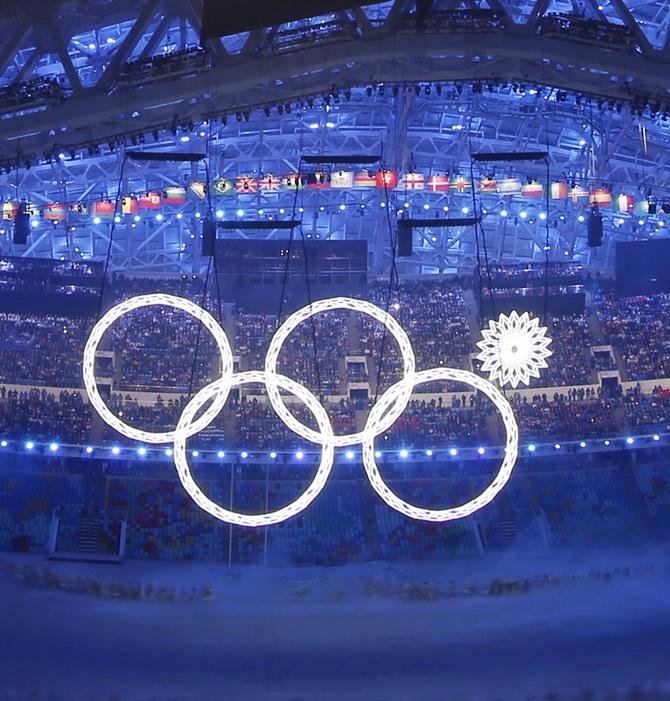 Four of five Olympic Rings are seen lit up during the opening ceremony of the 2014 Sochi Winter Olympics. Photograph: Lucy Nicholson/Reuters
The most expensive Olympics ever continued to make headlines long after the last gold medal was handed out at Russia's $50 billion show.
Cities in Norway, Sweden, Ukraine and Poland, all wary of the Games' spiralling costs, bowed out of the 2022 Winter Olympics bidding, leaving the International Olympic Committee to choose between Almaty and Beijing next year. The IOC accepted the need for change, passing proposals to reduce costs and allow multiple cities/countries to bid for Summer Games.
The show in Sochi sparkled despite pre-Games doubt. A spell-binding Opening Ceremony led to achievements long to be remembered.
Norwegian biathlete Ole Einar Bjorndalen, at aged 40, became the most prolific medallist in Winter Olympic history with two more golds.
Dutch speedskater Ireen Wust won five medals to equal the most medals by an athlete at a single Winter Games and speedskater Viktor Ahn, banished from the Olympics for eight years after falling out with South Korea, returning with a new country (Russia) to win more gold medals (three) than any athlete.
4. FIFA and 2018 and 2022 World Cup bids
A light installation showing the official logotype of the 2018 FIFA World Cup during its unveiling ceremony at the Bolshoi Theater building in Moscow. Photograph: Maxim Shemetov/Reuters
The controversy rages on, even after a FIFA ethics report identified inappropriate and "problematic" conduct by people involved in several bids for the 2018 and 2022 World Cups (won by Russia and Qatar), but found insufficient grounds to recommend a re-vote.
That decision and FIFA not making the report fully public led to more fierce criticism of the scandal-plagued governing body, whose members have been beset with allegations of vote buying and other corruption.
Some members are under investigation. But their roles are not the only question marks, especially for Qatar. The staging dates of the 2022 tournament must be resolved to avoid Qatar's searing heat and potential conflict with the Winter Olympics and European football. The new year also will likely bring Sepp Blatter's re-election as FIFA president.
5. Racist remarks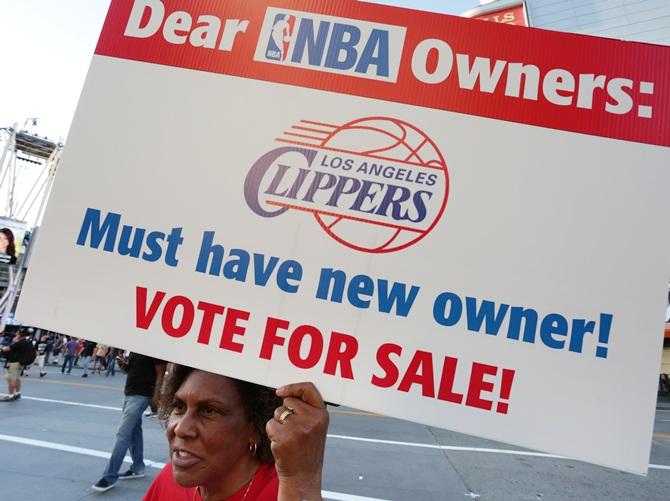 Susan Wright holds a sign protesting racist comments made by LA Clippers owner Donald Sterling. Photograph: Jonathan Alcorn/Getty Images
The ugly undercurrent of racism roared to the forefront in the National Basketball Association with Los Angeles Clippers owner Donald Sterling telling his girlfriend in a leaked recording not to bring black people to games.
The embarrassed league reacted firmly with Commissioner Adam Silver banning Sterling, fining him $2.5 million and asking the NBA board of governors to force the team's sale, which they did with former Microsoft official Steve Ballmer buying the Clippers for $2 billion.
More charges of racism followed with Atlanta Hawks owner Bruce Levenson announcing he would sell his controlling interest after disclosing in a 2012 email he theorized the 'overwhelmingly black audience' at the Hawks' games had scared away white fans.