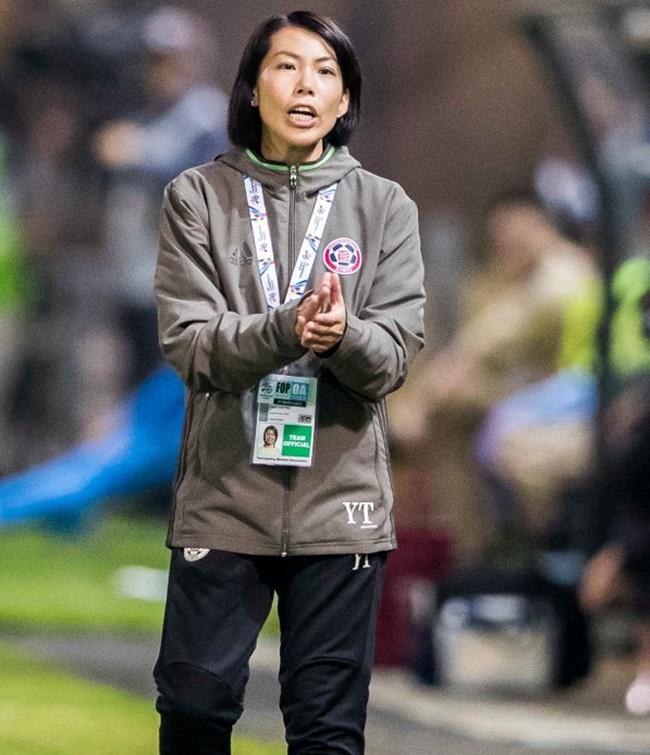 IMAGE: Coach Chan Yuen Ting of Eastern SC (HKG) reacts during the ACL Asian Champions League match. Photograph: Power Sport Images/Getty Images
Chan Yuen-ting, the first female coach to lead a men's professional soccer club to a top-flight title, hopes her success with Hong Kong's Eastern will inspire other women to follow their dreams.
The 28-year-old turned a childhood crush on former England captain David Beckham into a groundbreaking career that has earned her plaudits from around the world and a place in the Guinness Book of Records.
Chan is nicknamed "Beef Ball" in a play on her name and for the similarities of her personality to Chinese perceptions of the characteristics of the cow.
Among those characteristics are an appetite for hard work and determination, both of which Chan showed in spades as she shattered the glass ceiling for women coaches in football.
Remaining persistent is Chan's advice to other women looking to break into environments, in sport and elsewhere, where men still dominate.
"There might be many women who work in a male-dominated environment and are waiting for opportunities to rise or to break through," she told Reuters ahead of the club's Asian Champions League group match against Kawasaki Frontale this week.
"They might think, 'oh there are so few opportunities or it's super difficult'. But I keep telling them believe in it and it'll become reality.
"Even though you might be ready sometimes the opportunities aren't there, but at least when the time comes you'll be ready."
After gaining a masters degree in sports science, Chan got her start in soccer as a data analyst before moving into a coaching role and then joining Eastern, where she assumed the top job after her predecessor left for a club in mainland China.
Chan believes she was fortunate that she grew up in Hong Kong as she may not have had the same opportunities elsewhere in Asia.
"I'm really lucky to be born, to live and work in Hong Kong," she said.
"While I was growing up, and even now, I believe there has hardly been any discrimination against women. It's because of this, Hong Kong Football Association was able to give me a platform to develop my career.
"If I was in another Asian country, where women are not of the same social status as men, I would never be able to do what I can."
Leading Eastern to the Hong Kong Premier league title last year was an achievement in itself for a relatively modest club and meant a maiden campaign in the continent's top competition, the Asian Champions League.
The club's first very first group game enabled Chan to pit her coaching wits against Luiz Felipe Scolari, the Guangzhou Evergrande boss who led Brazil to their World Cup triumph of 2002.
While a 7-0 defeat starkly illustrated the huge step up in class Eastern were making, Scolari making time to come over after the match and give Chan some words of encouragement was an experience which still brought a big smile to her face.
"For me that moment was exciting. I mean aside from just competing against him, he's a former World Cup winner, I've watched him from a young age on TV," she recalled.
"So when I saw him in person, it was quite inspiring. And the things he said to me really sank in and I was very happy to be able to meet a coach of that standard."
Eastern's second Champions League match in front of a packed house at Hong Kong's Mongkok Stadium on Wednesday had a better outcome with an early penalty earning Chan's side a 1-1 draw and their first point in the competition.
"The (Champions League) is a competition of really high standard and we're quite lucky to be able to compete and for us, as a Hong Kong team, to be apart of it is quite groundbreaking," she said on the eve of the match.
"We all understand that the quality of football is a whole new level. For us, it's definitely a challenge."
While she has no solid plans to leave Hong Kong in the near future, Chan has expressed interest in taking her career overseas in the long-term and to then bring her knowledge back to Hong Kong would be ideal.
But for now, she is focusing on improving herself as a coach and continuing to build her relationship with her team.
"It's nerve-racking," she said. "There's definitely more nerves than excitement, because there's never been a female coach leading an all-male team."