For all the talk of motivation, desire, and a dozen other imponderables, tomorrow's rugby World Cup final between Australia and England will come down to individual contests within a team game.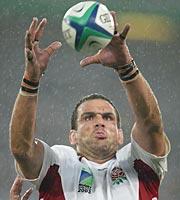 Both sides are through to the final on merit, defeating the brilliant but flawed New Zealand and France, respectively, last weekend.
Australia have the World Cup pedigree. They are the only side to have won the William Webb Ellis Trophy twice and believe they should retain it permanently if they secure victory at the Olympic Stadium in Sydney tomorrow.
England are the world's number one side, deservedly so after beating all their main rivals over the past year. They have also defeated the Wallabies in their past four meetings.
| | |
| --- | --- |
| | Countdown to the Final |
| | |
Most of the talk in Sydney this week has focused on England's reclusive flyhalf Jonny Wilkinson, who defied the elements to kick all of England's points in their 24-7 win over Les Bleus.
Obsessive is the adjective most commonly applied to Wilkinson, whose work ethic has been analysed relentlessly in the Australian media.
His critics say Wilkinson is no more than a left-footed Rob Andrew, the England flyhalf 12 years ago when Australia defeated England 12-6 at Twickenham, the only other time the two teams have met in a World Cup final.
| | |
| --- | --- |
| | Rugby World Cup 2003 SFs |
| | |
Andrew was a more gifted footballer than he was allowed to be in a side of limited vision. Wilkinson at his best can fit into any team pattern.

But his primary role on Saturday will be to kick goals, penalties if England force Australia into infringements, drop goals if the opportunity presents itself, and conversions should England score a try.

Australia have centre Elton Flatley, whose kicking percentage during the tournament is even better than Wilkinson's.

Flatley is devoutly grateful to be awarded a second chance after he was dropped this year for missing training following a night of prolonged celebration. He intends to seize the moment.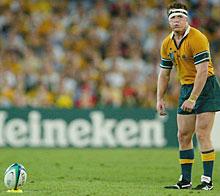 England have the best forward pack in the world, with formidable captain Martin Johnson at its heart. Glowering and intense, Johnson is an immense presence.
The backrow confrontation will be crucial. England's Lawrence Dallaglio, Richard Hill and Neil Back are tough and battle-hardened, completely dominating the classy French trio last Sunday.
They will be countered by Australia's David Lyons, Phil Waugh and George Smith, younger and faster but slighter and less experienced.
"It's a battle we need to win if we are going to be successful," Waugh said on Friday. "I'm sure they know all the tricks of the trade, so for us it's a huge challenge."
Rival coaches Eddie Jones and Clive Woodward have never deviated in their belief that they will prevail despite indifferent form earlier in the tournament.
| | |
| --- | --- |
| | More from the World Cup |
| | |
Neither cares how they win the final, but both know they need to seize the initiative early.

Australia ran the ball at tournament favourites New Zealand last Saturday, forcing the All Blacks to make tackle after tackle. England used similar tactics when they defeated Australia last June.

Heavy rain was falling in Sydney on Friday, which would favour England with their heavier but slower forwards. But Australia also have the intelligence and experience to adapt to difficult conditions.

Only six tries have been scored in the previous four finals, three of them in the inaugural 1987 tournament that was won by the All Blacks. So spectators on Saturday, including an estimated 40,000 fans from England, should not expect a try feast. They can, however, anticipate a fiercely fought classic.

Teams:
Australia -- 15 Mat Rogers; 14 Wendell Sailor, 13 Stirling Mortlock, 12 Elton Flatley, 11 Lote Tuqiri; 10 Stephen Larkham, 9 George Gregan (c); 8 David Lyons, 7 Phil Waugh, 6 George Smith, 5 Nathan Sharpe, 4 Justin Harrison, 3 Al Baxter, 2 Brendan Cannon, 1 Bill Young
Replacements: 16 Jeremy Paul, 17 Matt Dunning, 18 David Giffin, 19 Matt Cockbain, 20 Chris Whitaker, 21 Matt Giteau, 22 Joe Roff
England -- 15 Josh Lewsey; 14 Jason Robinson, 13 Will Greenwood, 12 Mike Tindall, 11 Ben Cohen; 10 Jonny Wilkinson, 9 Matt Dawson; 8 Lawrence Dallaglio, 7 Neil Back, 6 Richard Hill, 5 Ben Kay, 4 Martin Johnson (c), 3 Phil Vickery, 2 Steve Thompson, 1 Trevor Woodman
Replacements: 16 Dorian West, 17 Jason Leonard, 18 Martin Corry, 19 Lewis Moody, 20 Kyran Bracken, 21 Mike Catt, 22 Iain Balshaw
Referee: Andre Watson (South Africa)