Home > Sports > News > Reuters > Report


The magnificent obsession of Jonny Wilkinson

John Mehaffey in Sydney | November 21, 2003 10:32 IST



Awe and admiration mingle with a certain uneasiness when England rugby fans consider Jonny Wilkinson.

The player who could hold the fate of the World Cup in his hands in Saturday's final against defending champions Australia makes no secret of the ambition that drives his life.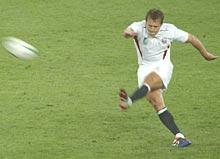 Wilkinson, 24, does not just want to be the best flyhalf in the world. He wants to be the best in the history of the game.
Unlike Americans, who worship success in any arena of life, including sport, England sports devotees have preferred flawed heroes such as footballer Paul Gascoigne or cricketer Ian Botham.
Both were indisputably great players, but their attraction to the average supporter lay as much in their human failings as their prowess on the field.
Wilkinson does not have a turbulent private life. If his newspaper column is to be believed he does not have any sort of private life.
"He didn't really have a proper girlfriend, but you never knew for sure," an old schoolmate told The Sun newspaper.
| | |
| --- | --- |
| | Rugby World Cup 2003 SFs |
| | |
Wilkinson has turned up at the compulsory news conferences at the England team's headquarters at Manly Beach. But like all professional sportsmen these days, he reveals little.

His hesitancy against South Africa, Samoa, and Wales earlier in the tournament was front-page news in Australia. While conceding that he had not played well, Wilkinson said he felt no undue pressure.

"There is pressure, I do put pressure on myself," he said. "But it is pressure I would put on myself if I was in another profession."

Before last weekend's quarter-finals, sceptics questioned Wilkinson's ability. Sure, he could kick, but was he really the best flyhalf in the world? Was he even the best flyhalf on display last weekend?

One test of a great player is to play well when it really matters. On that criterion, Wilkinson succeeded triumphantly against France. He scored all his teams points in the 24-7 victory, including three drop goals, one off his favoured left foot and two off his right. He was incisive in attack and, as always, tackled magnificently.
| | |
| --- | --- |
| | More from the World Cup |
| | |
His Australian opposite number Stephen Larkham can not expect the latitude granted him by New Zealand's Carlos Spencer last Saturday. And unlike All Black Leon MacDonald, he will also kick the goals.

Before Sunday's match Wilkinson practised his goal-kicking, slotting the ball between the posts from impossibly acute angles. It was a master class equivalent to watching Tiger Woods practising his putting before a major tournament.

"As a professional sportsman you just have to prepare as you do for any other game." he said. "The key is not allowing to be distracted from that and that for me has always been the most important thing.

"I need to do that work in order to live the life I want to live professionally."

Wilkinson is to rugby what England soccer captain David Beckham is to the national game. The pair have appeared in a television advertisement together and there are clear resemblances in their devotion to their chosen sports.

But whereas Beckham embraces publicity, Wilkinson prefers to stay in the background.

Photographers entrenched outside the team's hotel have been mostly disappointed. He has appeared briefly to sign jerseys, balls and T-shirts, but special security personnel ensure he is not mobbed.

If England win on Saturday they will enjoy celebrity status for the rest of their lives. If Wilkinson kicks them to victory a knighthood at some stage seems assured.

In the meantime he will redefine the meaning of obsession, pursuing excellence as an individual within a team sport.

© Copyright 2005 Reuters Limited. All rights reserved. Republication or redistribution of Reuters content, including by framing or similar means, is expressly prohibited without the prior written consent of Reuters. Reuters shall not be liable for any errors or delays in the content, or for any actions taken in reliance thereon.