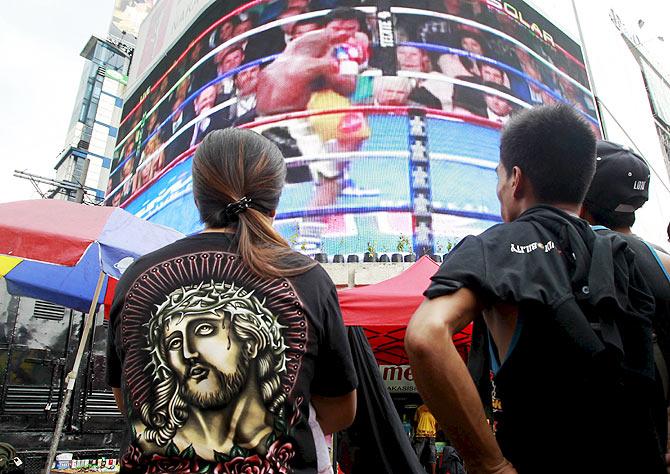 A fan wearing a shirt bearing the image of Jesus Christ watches the fight of Manny Pacquiao of the Philippines and Floyd Mayweather of U.S. on a live telecast monitor along a busy street in Manila on Sunday. Photograph: Romeo Ranoco/Reuters
Manny Pacquiao's loss to undefeated American Floyd Mayweather Jr in their welterweight showdown in Las Vegas was met with tears, anger and accusations of foul play in his homeland of the Philippines on Sunday.
- Mayweather maintains undefeated run after beating Pacquiao in megabout
- Shoulder injury hampered Pacquiao's bout
The American weathered Pacquiao's early assault and seemed to get stronger as the fight wore on, finishing ahead on all three judges scorecards.
In General Santos City, some fans cried while others called for an immediate rematch, saying Pacquiao deserved the win as he had been the aggressor, chasing Mayweather around the ring for much of the 12-round fight.
"It's a home court decision," said Karlo Alexei Nograles, a lawmaker from Davao City. "Manny should've won. He had Mayweather running and cornered on the ropes. Manny did not disappoint Filipinos, he gave it his all."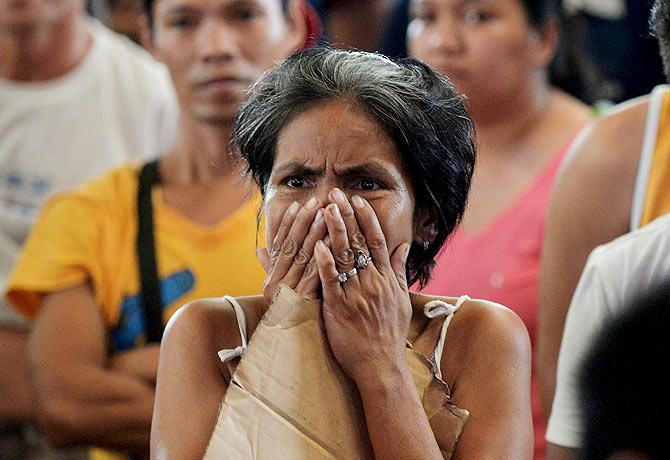 A woman reacts while watching the fight of Manny Pacquiao of the Philippines and Floyd Mayweather of US on a live telecast monitor inside a gym in Manila on Sunday. Photograph: Ezra Acayan/Reuters
The fight left streets deserted and brought the country to a virtual standstill as Filipinos packed into cinemas, hotels and parks to watch on big screens, while army bases across the Philippines also showed the fight for the troops.
President Benigno Aquino thanked Pacquiao for inspiring his countrymen to strive for better lives.
"He fought for respect, not points," Edwin Lacierda, the president's spokesman, said. "He won the hearts of the world."
While many fans vehemently disagreed with the result, some agreed Mayweather had come out on top.
"I am sad, let's accept the decision," Isidro Santos, a shopping mall guard, told Reuters. "Manny will remain my idol, he lost to a better fighter, a clever boxer."
Local analysts thought Mayweather was better defensively and landed the more accurate punches, and while Pacquiao was the more aggressive they said he won only three or four rounds.