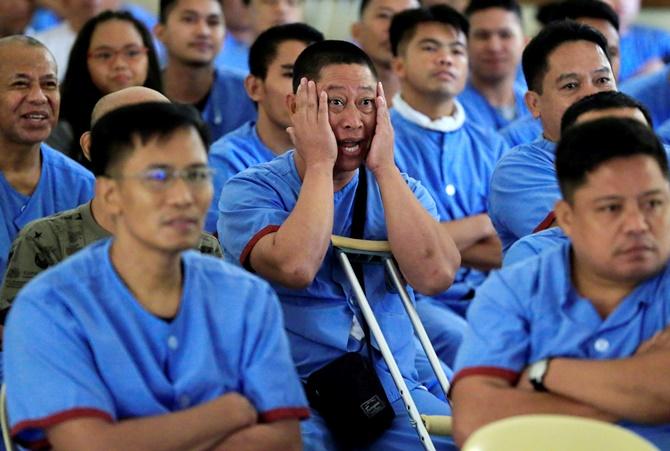 IMAGE: Wounded soldiers from war-torn Marawi who fought against the Maute group watch the box fight between Manny Pacquiao of the Philippines and Australia's Jeff Horn. Photograph: Romeo Ranoco/Reuters.
Filipino soldiers and refugees caught up in weeks of fighting with Islamist militants were given some rare respite on Sunday when they were treated to a live screening of Manny Pacquiao's WBO welterweight world title defence.
However, the excitement and noisy fanfare at a government centre soon turned into shock and disappointment when the local boxing hero suffered a stunning points loss to unheralded Australian challenger Jeff Horn in Brisbane.
The 29-year-old former school teacher extended his unbeaten record to 17-0-1 in front of a 50,000-strong hometown crowd but some Filipinos found it difficult to accept the unanimous decision after they felt Pacquiao had dominated the fight.
The result that caused dismay on social media among boxing and sporting greats.
"This is what's wrong with boxing," tweeted former undisputed world heavyweight champion Lennox Lewis.
"Horn was very game but I'm hard pressed to see how he could have won that fight by any stretch!"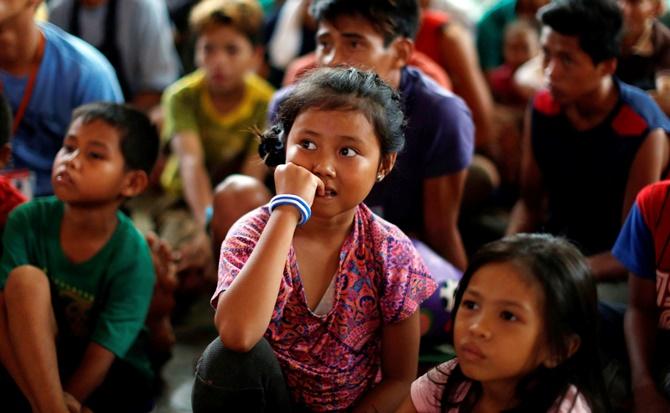 IMAGE: Displaced Marawi residents watch the box fight. Photograph: Jorge Silva/Reuters.
American football quarterback Aaron Rodgers of the Green Bay Packers was equally forthright.
"Boxing is a joke, and it proves it again tonight. Are you kidding me with those scorecards? #joke #rigged," Rodgers said on Twitter.
Baseball and NFL legend Deion Sanders said: "@mannypacquiao was robbed! I'm really upset right now. Really. This is ignorant. God bless u Manny and all u do for your country. #Truth."
"It's a hometown decision," Jamael Panggaga, a Marawi resident displaced by six weeks of fighting between security forces and pro-Islamic State militants in the southern city, told Reuters.
"It's very clear, Horn's face was battered, Manny only was bloodied because of head butts, how can he lose?" said Sergeant Badrodin Andak, who was among troops guarding the provincial capital.
Soldiers at an army base in Manila were stunned into silence as they left a gymnasium after the ring announcer declared Horn as the new champion, the Australian winning 117-111, 115-113 and 115-113 on the judges' scorecards.
Some of the servicemen in the crowd were among those who have battled the Islamic militants on Mindanao island, where more than 400 people have died in the conflict.
"It's a sad day for the Philippines," Divinagracia Matutina said in a Facebook post.
"I was devastated, never expected Manny to lose."
The unanimous decision was considered controversial in the Philippines because believed Horn was a dirty fighter, who often used his head to injure Pacquiao.
"Manny Pacquiao's loss in Brisbane would not diminish the honours he bestowed to the people and the flag," presidential spokesman Ernesto Abella said in a statement.
"Nothing will change, Senator Manny Pacquiao will remain our people's champ."
Many Filipinos are hopeful that a rematch between Horn and Pacquiao, a sitting senator and an army colonel in the reserve force, will be organised for later this year.