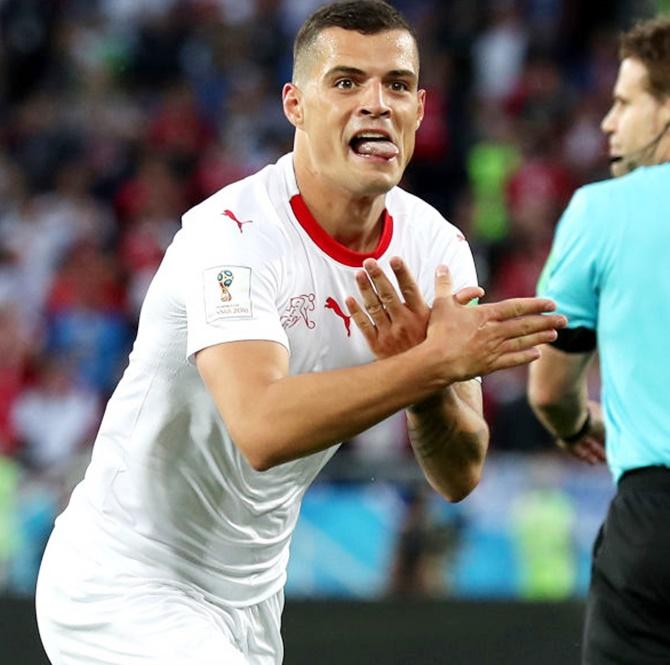 Two Swiss government ministers have backed national team players Granit Xhaka and Xherdan Shaqiri after their controversial goal celebrations in Friday's 2-1 World Cup win over Serbia.
Global soccer body FIFA has opened disciplinary proceedings after the two players, who are ethnic Albanians and of Kosovar heritage, celebrated with a gesture which appeared to imitate the eagle displayed on Albania's flag.
"Anyone who experience the electric atmosphere of the game can appreciate more the performance of our national team and can understand the emotions which overcome a player," Defence, Civil Protection and Sports minister Guy Parmelin told the Neue Zurcher Zeitung (NZZ).
Swiss Foreign minister Ignazio Cassis was also sympathetic.
"I have no doubt that you can feel patriotic emotions for the land which has taken you in without forgetting your roots," he said.
FIFA's disciplinary regulations state that players found guilty of provoking the public face a two-match suspension and
Swiss Football Federation president Peter Gillieron said he was hopeful that the pair would be absolved.
"It would be a hammerblow if they were to be suspended," he said.
Serbia refuses to recognise the independence of its former province Kosovo, whose 1.8 million people are mostly ethnic Albanians, which broke away 10 years ago.
Both FIFA and its European counterpart UEFA keep Serbia and Kosovo apart when making the draw for international competitions.
Switzerland have four points from their first two games in Group E and need a draw against Costa Rica in their final game to progress to the round of 16.
FIFA fines Poland for 'political and offensive' World Cup banner
FIFA said late on Saturday it had fined the Polish Football Association 10,000 Swiss francs ($10,124) for what it said was an offensive banner displayed by Polish fans during their side's 2-1 World Cup defeat to Senegal on Tuesday.
"The FIFA Disciplinary Committee has sanctioned the Polish Football Association with a fine of CHF 10,000 and a warning for the display of a political and offensive banner by Polish fans," FIFA said in a statement.
It did not go into detail about what the offending banner looked like.
The Polish Football Association declined to comment.
FIFA earlier this week also fined the Mexican Football Federation for what it called "discriminatory and insulting chants" by fans during Mexico's surprise 1-0 win over Germany last week.
It has also opened disciplinary proceedings against the Argentine FA and the Croatian FA for what it said were several crowd disturbance incidents during the two country's encounter on Thursday.
Disciplinary proceedings have been opened by FIFA against Switzerland players Xherdan Shaqiri and Granit Xhaka too over their goal celebrations during their win on Friday over Serbia at the World Cup.
Similar proceedings were opened against the Serbian FA for crowd disturbances and a display of what FIFA said were political and offensive messages by Serbian fans, while the Serbian coach Mladen Krstajic is facing a preliminary FIFA investigation over statements he made after that match.