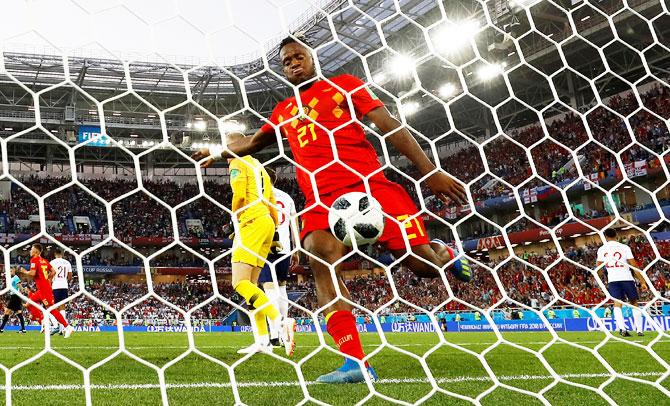 Michy Batshuayi was quick to see the funny side after his celebration of Belgium's winning World Cup goal over England ended with him being smacked hard in the face by the ball.
"Why am I so stupid bro," the Borussia Dortmund striker tweeted after video loops went viral of him lashing the ball against the post following Adnan Januzaj's second-half goal, only for it to rebound at close range and hit him.
The second-half strike gave Belgium a 1-0 win that saw them move into the second round as Group G winners over England, though victory means they face much the tougher half of the draw.
Hazard at No.10: Belgian PM's World Cup dig at May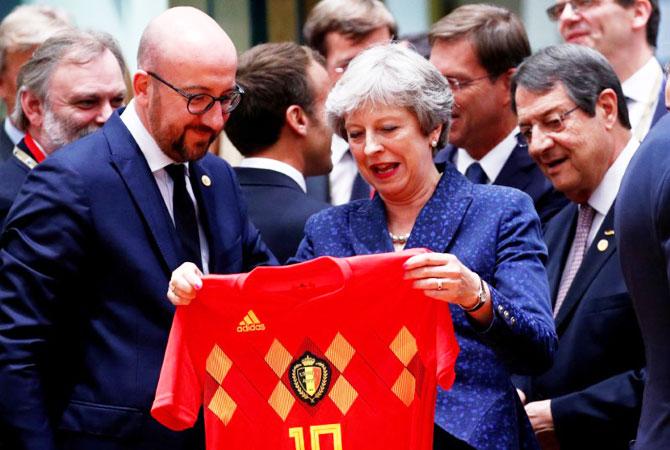 British Prime Minister Theresa May is used to being isolated in Europe and looked to be on her own again on Thursday in Brussels as England faced Belgium at the World Cup.
Belgian Prime Minister Charles Michel, whose capital hosts the European Union and who is a sharp critic of Britain's decision to leave it, made sure EU leaders were equipped with Belgian supporter scarves as they arrived in Brussels for a summit several hours before the game in Kaliningrad, Russia.
For May herself, Michel presented her with a red Belgian team jersey, emblazoned with the number 10 and the word HAZARD.
It is the shirt and squad number of Belgium captain and Chelsea star Eden Hazard. Aides to Michel declined to say if a pointed message was intended, given the threats posed to May's survival in office at 10 Downing Street by rows over Brexit.
May also gave Michel an England shirt before the match -- which she quipped was "the equaliser" -- although officials said it did not bear a name or number.
"The Belgian prime minister obviously felt he needed to get in quick from the first whistle," a senior UK government official said. Belgium went on to win the game 1-0.
While leaders often say politics should be kept out of sport, the World Cup and other tournaments provide opportunities for them to bring sport into politics, by scoring points over rivals or buffing up their popular credentials.
One famous photograph from a 2012 EU summit captures May's predecessor David Cameron punching the air as Chelsea scored to beat Bayern Munich in the Champions League final while German Chancellor Angela Merkel looks on stony faced.
The same year, tense negotiations over the euro zone crisis were conducted with leaders getting updates on the Euro 2012 semifinal between Germany and deeply indebted Italy.
On Thursday, Merkel, long the dominant political leader in Europe but who is now battling for survival as her coalition parties squabble, wore a jacket in the dark green sported by Germany's footballers the night before, when the reigning champions crashed out of the competition.
A new row over housing refugees in European countries kept leaders away from the match, but Michel's spokesman said a television was in place outside the summit room for those wanting to check the score.
Both Belgium and England had been sure to qualify for the next round of the World Cup, so the result is of little importance, but national pride remains a potent force.
In one memorable instance, Denmark's foreign minister arrived at a summit in 1992 to demand concessions from Germany to end Danish resistance to joining an economic union.
Hours earlier, the Danes had stunned Europe by beating the Germans to become European soccer champions. A Danish scarf on his shoulders, minister Uffe Ellemann-Jensen insisted he too was sure of victory, saying: "If you can't join them, beat them."