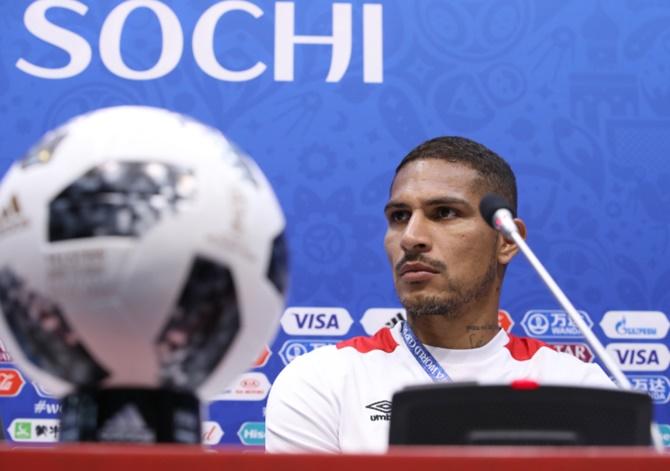 Peru captain Paolo Guerrero has promised to give his Australian counterpart Mile Jedinak 'a big hug' before Tuesday's match between the teams as a thank you for his personal support in overturning Guerrero's drug suspension.
Although he was given a 14-month ban after testing positive for a cocaine byproduct contained in a tea, Guerrero was allowed to play in the tournament partly because the captains of Group C rivals Australia, France and Denmark appealed on his behalf.
"I haven't had the chance to thank him personally," Guerrero said on Monday, the day before Australia and Peru meet in Sochi. "I hope to do that before the match tomorrow and I hope we can chat. I am so, so terribly grateful to him."
"As with any footballers, I think we have to support each other and I hope to give him a big hug and thank him personally."
Peru are playing for pride after being knocked out the tournament following early defeats by Denmark and France, while Australia could sneak through on goal difference if they win and the Danes lose to the French.
But if the Australians thought Peru's early exit will make their life easier, those hopes were dispelled by Guerrero.
"We were very disappointed after being knocked out, it is hard to accept after playing so hard," Guerrero said. "But I see all my team mates with the knife between their teeth. They don't want to go home empty handed."
"We are looking forward to it and we'd like to at least go home with three points so we can give a little bit of joy to the fans who have come all this way and who are watching back home."
The usual news conference a day before the game was marked by tributes to coach Ricardo Gareca.
The Argentine has become a hero in Peru after taking them to their first World Cup Finals in 36 years and their early elimination did nothing to sour his relationship with the Peruvian journalists who lauded their coach.
"Thank you to the press from all of Peru's staff, players, and technical team," Gareca said. "My high personal approval has been thanks in part to your reports."
Gareca refused to be drawn on whether he will extend his contract after the tournament.
Soccer-roo halts play in Australian football match
Australia's national football team may be nicknamed the 'Socceroos' but the country's most recognisable marsupial had shown scant interest in the game until a real life 'roo bounded in to the middle of a match.
A game was held up about half an hour in the capital, Canberra, after the large eastern grey kangaroo hopped on to the pitch and even had a lie-down in the goal mouth, refusing to budge.
"He was quite happily watching the first part of the match and decided he'd join the field of play when the girls went off at half time," match commentator Russ Gibbs told the Australian Broadcasting Corp.
Footage showed ground staff at the Sunday game between two women's team, the Canberra Football Club and cross-town rivals Belconnen United, trying to shoo away the kangaroo by kicking a ball at it. But the 'roo defended ably.
"It was quite happy to control it and send a good quality pass," Gibbs said, adding it was difficult to move the kangaroo on 'without aggravating it any further and making it upset'.
Australia has an estimated 45 million kangaroos, or more than double the number of people.
Although they rarely disrupt sport matches, they are a common sight in the countryside and around Canberra, which is dubbed 'the bush capital'.
Eventually the Belconnen coach used his car to chase it away through an open fence, the match resumed, and his side won 2-0.