From caviar to veal tongue, fans get true taste of Russia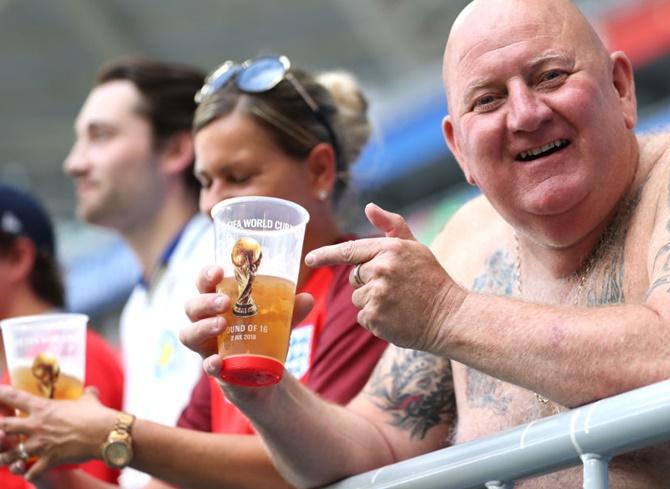 Many soccer fans knew little or nothing about Russian cuisine before the World Cup, but have tucked into local gastronomy with relish, trying everything from luxurious caviar to staples like veal tongue.
Russian food is often thought of as bland and heavy, and indeed many dishes seem geared towards getting people through the gruelling winter rather than amusing their palates.
But 28 year-old Egyptian Ahmed Morsy has made it a point of trying a new Russian dish every day. Meat-filled pelmeni dumplings and Beef stroganoff rank among his favourites.
"I love it, honestly. It's better than I expected. I don't like spicy food myself so for me it was perfect," said Morsy as he perused a restaurant menu in the sweltering southern city of Volgograd.
"The whole country has exceeded my expectations. I had never been to Russia before, I thought the people would be grumpy and the country not that organised," he said.
Indeed, most fans have been impressed by Russians – some in remote or industrial towns where tourists rarely tread – bending over backwards to help, dispelling preconceptions and spreading an upbeat atmosphere.
"I thought Russian food might be weird. I haven't found it weird. But I do prefer the Uzbek and Azerbaijani barbecue," said Morsy's university pal Mamdooh El Eleila, 29, who ordered Kiev chicken, a fillet that is either fried or baked.
Indeed, food from nearby countries - particularly spicier Georgian cuisine - has been particularly popular with fans looking for a little more piquancy in their plates. Caviar bars and vodka cocktails have also been prized.
Still, some fans from countries like India and Mexico, renowned for their succulent spicy fare, have not been impressed.
"The flavours here are quite salty. And of course we miss chili," said Ricardo Garcia, a 32 year-old programmer decked out in the green Mexican football jersey.
"We brought hot sauce with us from Mexico but we forgot it in our last hostel and now were suffering a little. We found some ketchup with chili in a supermarket and that helps a little, but it's not the same."
His pal Heriberto Gonzalez, however, was far more upbeat.
"There are some soups that any Mexican mothers could prepare! Borscht, for example, because they use the potato in a very similar way. Of course, there's a little bitter Russian flavour to it," said Gonzalez, a 37 year-old who works in marketing.
"But if I wanted Mexican food, I would have stayed in Mexico!"
Some fans, however, have found temporary refuge in their own cuisine - like Egyptian physics student Ahmed Nasr, who was queuing for a shawarma.
But he said local waiters and chefs had also prodded him - via Google Translate - to try local fares including Russian lamb and buckwheat.
"I was at a buffet and the staff encouraged me to try Russian food. I liked it. I did not even know what they ate in Russia," said Nasr, 31, who lives in Canada.
"In Canada we have Chinese, Indian, Middle Eastern food, but I've never seen Russian. Maybe I will look for a Russian restaurant - hopefully I can find one!" he laughed, adding that in any case he planned to return to Russia as a tourist.