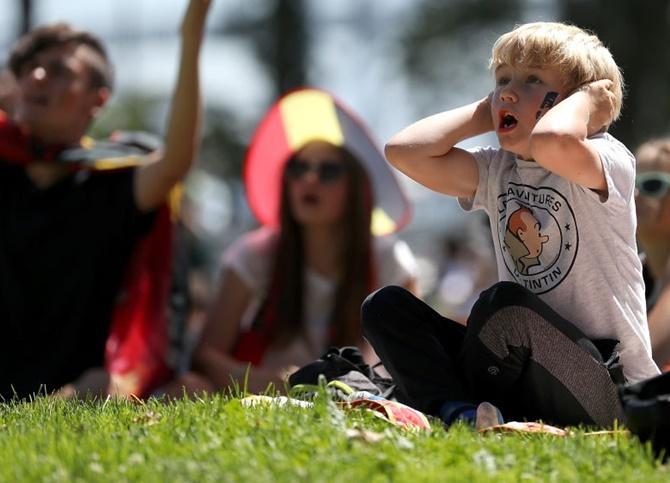 Brussels commuters, heading to work the morning after Belgium's painful World Cup loss to France, had to endure the French soccer anthem piped through the city's metro on Wednesday.
The reason: not only did the national team lose 1-0 in Tuesday's semi-final but also the Brussels public transport authority lost a bet with its Parisian counterpart.
Before the match, the two groups challenged each other on social media. If Belgium won, Paris would change signs at its Saint-Lazare station to 'Saint Hazard' in honour of Belgian whirlwind midfielder Eden Hazard.
But after the 'Golden Generation's' defeat in St Petersburg, Brussels instead had to 'treat' travellers to the anthem 'Tous Ensemble' - All together - by late French rocker Johnny Hallyday at 8 and 10 am.
At least Hallyday's father was a Belgian. The country honoured the singer's heritage when he died last year, playing his greatest hits on trains and over loudspeakers on the Grand Place in central Brussels.
World Cup marred by 'significant' sexism outside the stadium
The World Cup has been marred by an estimated 300 cases of sexism on the streets tarnishing an otherwise positive tournament, the head of an anti-discrimination group said on Tuesday.
Piara Powar, the head of the FARE network which monitors discrimination in European soccer and has been working with FIFA, said the victims had included Russian women harassed by fans and television reporters who had been accosted while broadcasting.
"It's been a largely positive experience and there haven't been a great deal of incidents of the type we expected," Powar told reporters, referring to pre-tournament fears of racism and homophobia.
"The only thing we have really flagged up which has been significant has been the level of sexism which has been encountered by some women, often Russian women who have been confronted by fans," he said.
"We have identified 30 cases where we can point to fans involved in acts of sexism on the streets -- that's clearly an underestimate, the real figure is probably that times 10."
He added there had been around 30 cases of reporters who had been accosted on air.