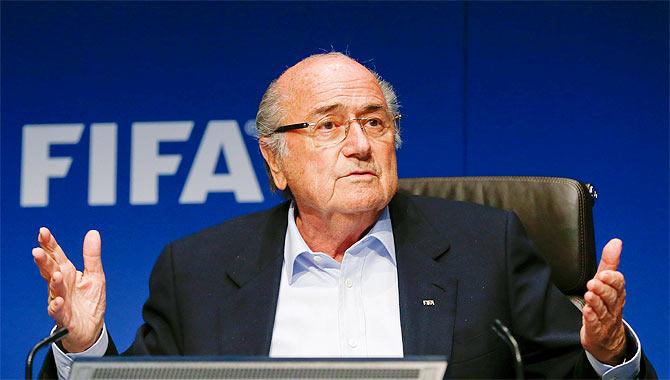 FIFA chief Sepp Blatter. Photograph: Arnd Wiegmann/Reuters
FIFA president Sepp Blatter is a mere servant at the service of football, he said on Friday as he re-stated his intention to run for a fifth mandate in next May's election.
Blatter also declined a challenge from Jerome Champagne, his only declared opponent so far, to take part in a public debate about the future role of soccer's governing body, saying "we shall not imitate politics".
"I'm not running, I'm at (their) disposal," Blatter told reporters after informing his executive committee that he would stand again.
"What is FIFA? FIFA is a serving company for our society," he said.
"If you go into the statutes of FIFA, you will read the objectives of FIFA (which are) to develop football around the world, to take into consideration the unifying educational, cultural, humanitarian values of football and then to develop football through youth and development programmes...
"We are a service and I am still at the service," he said, adding that only ill-health would stop him standing.
"I don't know....we are not masters of our destiny. Now I feel well, perhaps in a few months who knows, but if I am still well and if they want me, I am at (their) disposal and I want to go on serving football."
Blatter, who said when he was re-elected in 2011 that his current mandate would be his last, added: "I'm not finished. A mission is never finished, never, and now you see we are not at the end of our reforms, we can see it in the problems that are pending with the ethics committee.
"The other part is I've been contacted and I was asked just before the Congress in Sao Paulo by five of the six confederations, 'please stay'... so I declared today I am at their disposal."
Blatter's rival Champagne has called for him to take part in a public debate, something the Swiss was not enthusiastic about.
"We have electoral regulations and we don't know how many candidates we will have after Jan. 29, which is the deadline, and depending on how many we are, I don't know how we can organise public discussions," he said.
"We are not in politics, we are in sport, and we shall not imitate all that is done in politics," he added.
"I tried in 1998 and they all refused to speak to me," he added, referring to the year in which he was elected for the first time. "If there is a debate, then in (FIFA) Congress, they are the ones voting."
Asia chief pledges support for Blatter re-election bid
The head of the Asian Football Confederation (AFC) has pledged his support for FIFA president Sepp Blatter in next year's election at which the 78-year-old Swiss is expected to win a fifth term as soccer's most powerful administrator.
After UEFA president Michel Platini ruled out taking on the incumbent FIFA boss, Frenchman Jerome Champagne remains Blatter's only declared opponent at the vote taking place in Zurich next May.
AFC president Shaikh Salman bin Ebrahim Al Khalifa, who is in Zurich to attend FIFA standing committee meetings, said he would back Blatter, who has maintained a strong relationship with the confederation.
"Joseph S. Blatter has always been supportive of Asia and has placed great importance in the development of Asian football through various FIFA programmes," he said on the AFC website (www.the-afc.com).
"Our growth in world football can also be credited to the dynamic relationship that the AFC has with FIFA under the guidance of Mr Blatter.
"Mr Blatter has decades' worth of experience in governing world football, therefore I have every confidence that he will continue to play an important role in its development," he added.