'That's what we're trying to do, by creating a tournament that is much more attractive than the current one, with more quality among participants and more clubs. That will attract more sponsors and television companies from around the world'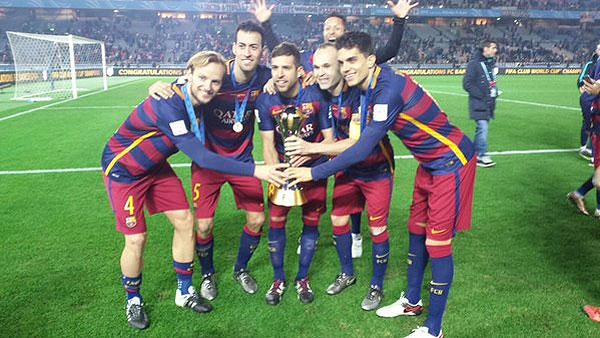 IMAGE: Reigning champions FC Barcelona players celebrate with the Club World Cup trophy after defeating Argentine club River Plate to win the title on December 20, 2015. Photograph: FC Barcelona/Twitter
FIFA President Gianni Infantino wants to radically expand the Club World Cup and move the tournament from December to June, he was quoted as saying on Friday.
Infantino intends the Club World Cup, which currently brings together the champions from each of the continental federations, to have a similar format to the European Champions League, which has a 32-team group stage, he told Spanish daily Mundo Deportivo.
He said the first edition of the revamped version of the tournament could take place in 2019.
"Today football is not just about Europe and South America, the world has changed and that's why we need to make the Club World Cup more interesting for teams, and also for fans around the world," Infantino said.
"That's what we're trying to do, by creating a tournament that is much more attractive than the current one, with more quality among participants and more clubs. That will attract more sponsors and television companies from around the world."
In a separate interview with Gazzetta dello Sport, he said he wanted to see 32 teams in the competition.
Barcelona, Champions League winners in 2015, are the current holders of the Club World Cup, having beaten South America's then Copa Libertadores champions River Plate in last year's final.
Champions League holders Real Madrid will represent Europe in this year's competition, due to begin in December in Japan, with South America's representatives being Copa Libertadores winners Atletico Nacional of Colombia.
The first Club World Cup was held in 2000. In 2004 it replaced the Intercontinental Cup, which featured only the winners of the continental competitions in Europe and South America.
Infantino also suggested that some European leagues, such as Spain's La Liga, should reduce the number of teams in the division from 20 to 18 to prevent fixture congestion.
"The Spanish league with its 20 teams is not the best formula at all, not for the calendar nor for many other reasons," he added.
Former UEFA general secretary Infantino was elected in February to replace the disgraced Sepp Blatter.
Infantino has also proposed expanding the World Cup from 32 teams to 48.