Former FIFA executive committee member Worawi Makudi was banned again on Monday for failing to respect an earlier suspension imposed during an investigation over alleged misconduct, soccer's governing body said.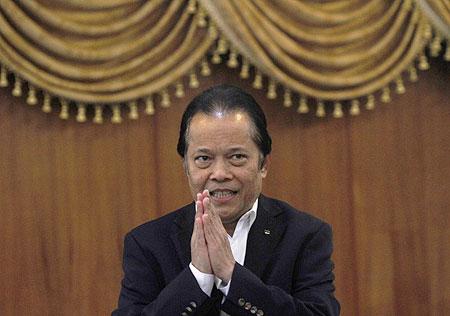 Worawi, who was on the committee in December 2010 when it awarded the 2018 World Cup to Russia and the 2022 tournament to Qatar, has been suspended by FIFA's ethics committee since last October while it conducts the investigation.
The ethics committee has not given details of his alleged misconduct and Worawi, the former head of the Football Association of Thailand (FAT), has denied any wrongdoing.
FIFA's disciplinary committee has now added its own 90-day ban which started on Monday, fined him 3,000 Swiss francs ($3,009.03) and issued a warning after finding that he had breached the conditions of the original suspension.
"The Disciplinary Committee found that he was still involved in FAT affairs during this period ... and has therefore decided to ban him from taking part in any kind of football-related activity at national and international level for a period of three months," said FIFA in a statement.
Worawi, 64, had been on the FIFA executive committee for 18 years as one of the Asian Football Confederation's representatives until he was voted off last year.
Switzerland's attorney-general has opened an investigation into the bidding process for the 2018 and 2022 tournaments, part of a scandal which has engulfed soccer's governing body which will elect a new president on Friday.
Worawi is among a number of former FIFA officials under investigation by the ethics committee, which in December banned FIFA president Sepp Blatter and European soccer boss Michel Platini for eight years each.
Worawi had been due to stand for re-election as FAT president on Oct. 17. However, on Oct 16, FIFA sacked the entire FAT executive committee, replaced it with a "normalisation committee" and postponed the election.
The election went ahead earlier this month and was won by Somyot Poompunmuang.
($1 = 0.9970 Swiss francs)
Image: Football Association of Thailand (FAT) President Worawi Makudi
Photograph: Chaiwat Subprasom/Files/Reuters