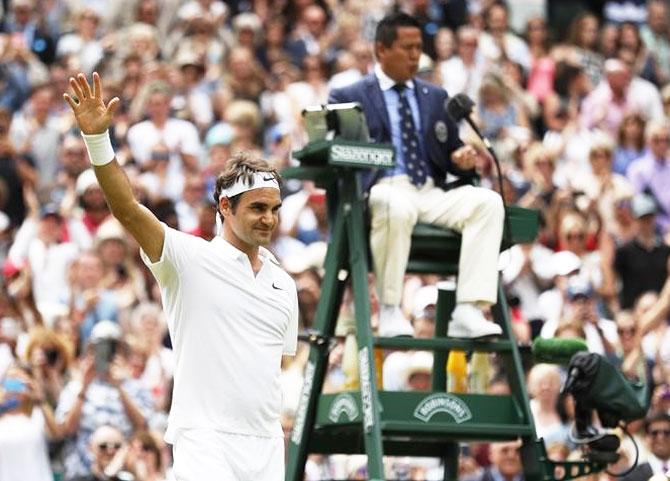 IMAGE: Switzerland's Roger Federer celebrates winning the second set in his match against USA's Steve Johnson on Monday. Photograph: Andrew Couldridge/Reuters
Roger Federer thinks a tie-breaker at 12-12 would be the best compromise following calls for Wimbledon to step into line with the US Open and scrap long deciding sets.
- Wimbledon PIX: Federer, Serena in quarters, injured Nishikori retires
American John Isner, winner of the longest match in tennis history but loser in a 19-17 fifth-set marathon against Jo-Wilfried Tsonga on Sunday, believes Wimbledon should enforce a tie-break if the deciding set reaches 6-6.
Federer, who has cruised through to the quarter-finals without dropping a set, thinks long final sets provide gripping entertainment, but can understand Isner's point.
"I don't know. Maybe they could make a tiebreak at 12 all. I it is rough for not only the players playing, but also the players that follow that court," the seven-time champion said.
"It is very cool if it goes 12 all, 14 all, 18 all, 20 all, further and further. The chances get slimmer and slimmer to win that next round. Like the Open, they have a breaker in the fifth. They could make a compromise and make a tie-breaker at 12 all. Play another six service games each.
"Usually it doesn't go to that, anyway. If it does go there, you had your chances to break or not to break, so you're happy maybe to be in a tie-breaker."
Federer's longest fifth set came in the 2009 Wimbledon final against Andy Roddick, when he prevailed 16-14.
While not much fun for the players, Federer said he had enjoyed watching Tsonga battle Isner.
"I think it's super cool and that's the match I was watching," he said.
"I didn't care about any other match that was being played other than that match."
Two other matches have gone beyond 12-12 in a decider at Wimbledon this year. Gilles Muller beat Santiago Giraldo 15-13 in the fifth while Matthew Barton beat Albano Olivetti 14-12 in the deciding set.
Neither came anywhere near Isner's infamous battle against Nicolas Mahut in 2010 -- the American winning 70-68 in the fifth set after 11 hours and five minutes.