'Today is going to be my day'
'I've always believed that I have this in me, to constantly get better'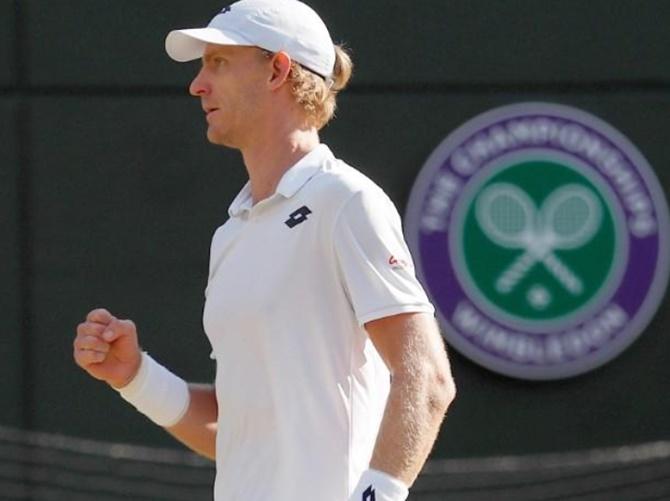 Kevin Anderson ended Roger Federer's streak of service game holds at Wimbledon on 85, then halted his 34-set roll at the All England Club, but the South African was not content with that.
Walking out on a sunlit Court One for their Wimbledon quarter-final he told himself: "Today is going to be my day".
Despite losing the opening set in 26 minutes and the second on a tiebreak, he was proved right, claiming an astonishing 2-6, 6-7(5), 7-5, 6-4, 13-11 victory in four hours and 14 minutes.
He had lost his four previous encounters with Federer.
After an hour and a half of Wednesday's match his set record against the Swiss 20-times Grand Slam champion stood at 0-10.
Hardly an encouraging position from which to launch himself towards arguably the biggest victory of his career.
But Anderson's rock-solid belief was unshakeable, even when he faced a match point in the 10th game of the third set.
"I feel the few times I've played him in the past, I've walked on court without the necessary belief that I needed to get through the match," 32-year-old Anderson, one of only two Africans in the men's singles draw, told reporters.
"I felt like I was just trying to keep myself very highly motivated. Today was going to be my day.
"Even in the first set when it was really close, I kept on telling myself that, I'm in this match right now. I felt like today was going to be my day. I was able to keep with that as much as I could. I guess in the end I was right."
Anderson is the first South African to reach the Wimbledon semi-finals since Kevin Curran in 1983.
He also reached last year's US Open final, yet Anderson's career has been slow to come to the boil.
It was only at the 2015 US Open, when he was 29, that he reached the last eight of a Grand Slam for the first time.
His highest year-end ranking is 12 in 2015 but he is set to surpass that this year having arrived at Wimbledon in eighth.
Anderson's is a tale of perseverance, of leaving no stone unturned to find the tiny margins between success and failure.
"I've always believed that I have this in me, to constantly get better," Anderson said. "I'm very motivated to keep improving. I feel like it's very rewarding seeing those improvements take place, week in, week out.
"Especially over the last 52 weeks. I really have felt a lot of improvements in that time."
"My team believes in me a lot. My family believes in me a lot. I think I've started to believe in myself a lot more. Coming into this event definitely felt just a more quiet confidence of going further in it than I had in the past."
With the Federer box ticked, Anderson said he will now re-focus on going even further and getting past big-serving American John Isner who he trails 8-3 in head-to-heads.
"As exciting as it is, I feel like I'm doing a good job of keeping it in perspective," he said.
"There's hopefully two more matches still to be played. As of right now, I'm sort of more focussed on that than getting too excited about the overall picture."