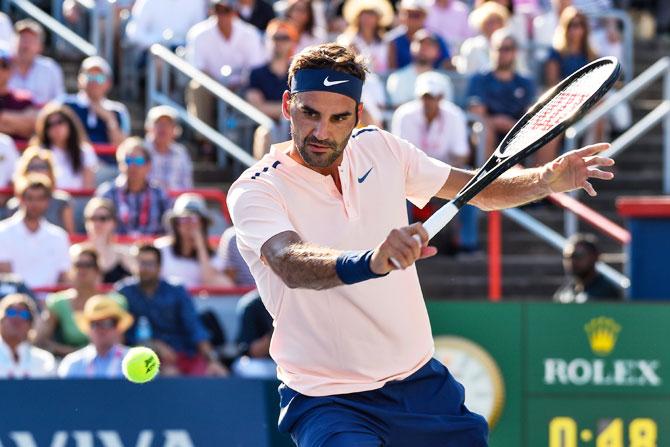 IMAGE: World No 3 Roger Federer eyeing three grand slam titles in the same year for the first time since 2007. Photograph: Minas Panagiotakis/Getty Images
An injury-ravaged US Open men's draw offers the best opportunity yet for a young pretender to claim a maiden grand slam crown but in this most retro of seasons Roger Federer and Rafael Nadal will look to turn back time in New York.
With the physical demands of modern-day tennis taking its toll the tournament will start without four of the top 11 in the ATP rankings including defending champion Stan Wawrinka who ended his season early with a knee injury.
Twice champion Novak Djokovic (elbow), 2014 runner-up Kei Nishikori (wrist) and Milos Raonic (wrist) are also absent while 2012 champion Andy Murray and 2014 winner Marin Cilic have been sidelined since Wimbledon by injuries.
Federer, looking to win three grand slam titles in the same year for the first time since 2007, withdrew from Cincinnati with a back niggle and while Nadal, who returned this week to world number one, is fit, his form of late has been patchy.
All the more reason that Alexander Zverev, Dominic Thiem and Nick Kyrgios -- to name but three -- will be relishing seizing a golden opportunity in the Big Apple.
Of those Germany's 20-year-old Zverev looks the best bet to shake it up after rising to sixth in the world after beating Federer in the Rogers Cup in Montreal -- the biggest title so far for the six-foot-six-inch powerhouse.
"Is Zverev ready to step up best of five?" four-times Flushing Meadows champion John McEnroe, part of ESPN's commentary team, said this week.
"If he is he's got a great chance to step forward and get to the final, at least the semis."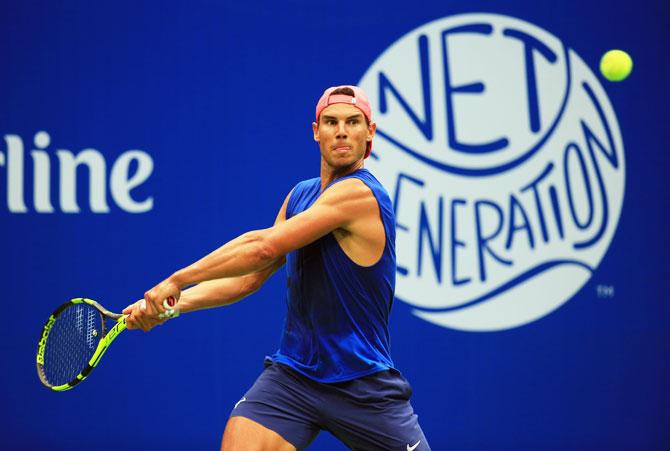 IMAGE: World No 1 Rafael Nadal at a practice session prior to the start of the 2017 US Open at the USTA Billie Jean King National Tennis Center in the Queens borough of New York City on Friday. Photograph: Chris Trotman/Getty Images for USTA
Unpredictable Australian Kyrgios has shown signs of delivering on his potential this year, most recently when beating Nadal in the quarter-finals in Cincinnati before losing to Bulgaria's Grigor Dimitrov, another US Open title candidate, in the final.
"You can say he's slowly hopefully but surely going in the right direction," McEnroe said of the 22-year-old Kyrgios.
Austrian Thiem appears to have left his best tennis on the European clay, struggling on the North American hardcourts.
Jack Sock, John Isner and Sam Querrey will lead the American challenge in the men's tournament -- hoping to end a six-year wait for a men's quarter-finalist for the host nation.
"I don't see any of them winning it. I see all of them being dangerous," McEnroe said.
The 36-year-old Federer, seeded third, will be most people's title pick having produced a stunning year since returning from a six-month lay-off in January -- compiling a 35-3 record.
Having claimed a first Australian Open title for seven years, a first Wimbledon title for five years he could surpass even those feats with a first US Open since 2008 and take his grand slam tally to a record-extending 20.
"At the moment we are assuming that Roger is going to pull the rabbit out of the hat again," McEnroe said.
"If Roger wins this, this will be one of the great stories in the last 50 years or ever."
Should either the Swiss or French Open champion Nadal, twice a champion in New York, prevail it would be the first time since 2010 that the duo have scooped all of the year's majors.
However, if fans were hoping for a Federer-Nadal finale, those hopes were dashed after Friday's draw set them on a semi-final collision course.
And even before a ball is hit in anger, the countdown to that possible showdown has set pulses racing.