'There's many positives, to be quite honest. So I'm excited for next season'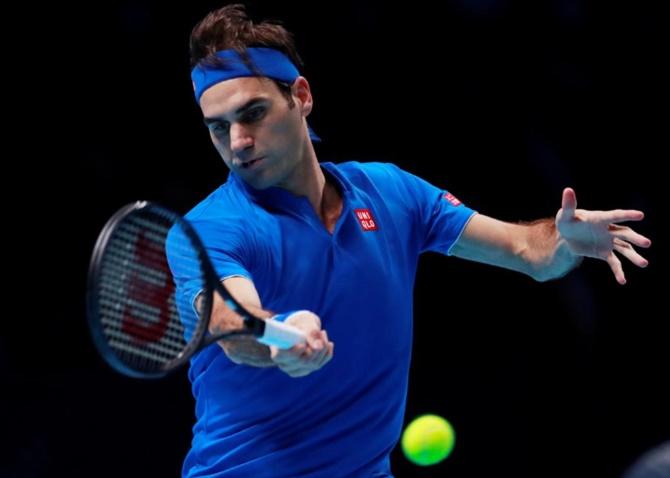 Defeat by Alexander Zverev at the ATP Finals on Saturday left Roger Federer stuck on 99 career titles, but despite missing out on his century the Swiss said he was happy with his season.
Federer began the year by claiming a record-extending 20th Grand Slam title in Australia and while he won three other tournaments this year his season ended in frustrating fashion.
"I mean, (Pete) Sampras once upon a time said, if you win a Slam, it's a good season," the 37-year-old told reporters after his 7-5, 7-6(5) loss to the young German at the O2 Arena.
"The second half of the season could have been better maybe. I'm happy I gave myself opportunities again in that second half of the season. I maybe lost a couple too many close matches that could have changed things around for me a little bit."
Federer was referring to his Wimbledon quarter-final defeat by Kevin Anderson when he led by two sets and had a match point.
"I'm a little bit disappointed there because I believe I was close. Being close makes me believe I can keep going, I can win again. That's uplifting in some ways," he said.
"Overall I'm happy how the season went. There's many positives, to be quite honest. So I'm excited for next season."
That will be good news for the Federer fans who dread the day he decides to hang up his racket.
Federer said he would sit down with his coaching team and come up with a schedule for 2019 and had not ruled out returning to the European claycourt swing he sat out this year.
"Definitely the plan is to play again next year, and come up with a good schedule that suits my family, suits (my wife) Mirka," he said. "That's why it's good that we have time now."
"Looking forward to that process. I like taking decisions, so it's all good."
"I must tell you I'm very proud that at 37 I'm still so competitive and so happy playing tennis. From that standpoint, as disappointed as I might be about this match, if I take a step back, I'm actually very happy about the season."
In February, Federer added another record to his vast collection when he became the ATP's oldest world number one, returning to the top for the first time since November 2012.
"It's been an historic season in some ways," he said. "Got back to world number one. That was a huge moment in my life, in my career because I never thought I would get there again."
Djokovic thumps Anderson to set up final clash with Zverev
Novak Djokovic produced a masterful display to outclass South Africa's Kevin Anderson 6-2, 6-2 on Saturday to set up an ATP Finals title showdown with Alexander Zverev.
The world number one was immaculate from start to finish against the 32-year-old as he put himself within touching distance of a record-equalling sixth title at the year-ender.
He offered up a mere 14 unforced errors and not a single break point as he again proved too good for Anderson, who he beat to win Wimbledon this year.
Djokovic found his range immediately and the writing was on the wall for Anderson when he dropped serve in the opening game.
Anderson, the first South African to reach the semi-finals in the tournament's 48-year history, simply had no answer to the relentless accuracy of Djokovic's groundstrokes and had to save two break points in his next service game.
Breezing through his own service games -- he is yet to be broken this week -- Djokovic was able to exert maximum pressure on Anderson's delivery and his opponent buckled to drop serve again as Djokovic pocketed a one-sided opener.
There was no let-up at the start of the second set for Anderson as he double-faulted to go 0-40 in his opening service game, Djokovic duly breaking again as the world number six dumped a forehand into the net.
Anderson received a code violation for an audible obscenity but it was hard to blame him for losing his cool as Djokovic continued to turn the screw.
Breaks were arriving with the frequency of London buses for the Serb and a rasping crosscourt forehand gave him another one as he romped into a 5-1 lead.
Anderson nicked one game back but it was a hopeless task and Djokovic put him out of his misery with a netcord on matchpoint to claim a 35th win in his last 37 matches -- a run including the Wimbledon and US Open titles to swell his collection of Grand Slam titles to 14.
Not bad for a man who began the year plagued with an elbow injury that needed surgery and who slumped to 22nd in the ATP rankings as recently as June.
Should he win against the 21-year-old Zverev, who he beat convincingly in the round-robin stage here, the 31-year-old will become the oldest player to claim the title.
Roger Federer, the previous oldest, was beaten 7-5, 7-6(5) by Zverev in the day's first semi-final.