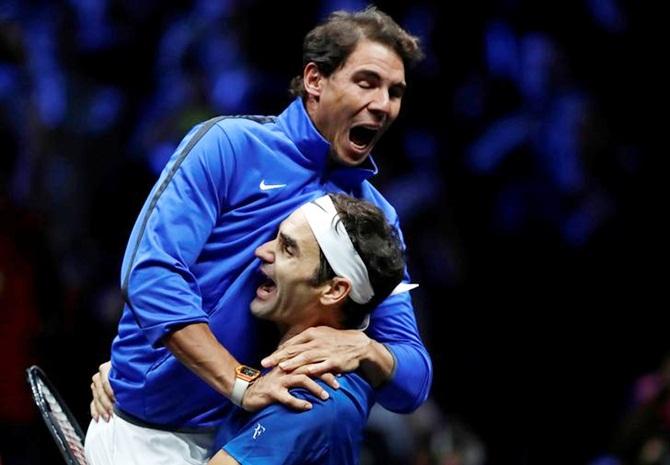 IMAGE: Roger Federer hoists Rafael Nadal after scoring a crucial singles victory over Nick Kyrgios to win the Laver Cup for Team Europe. Photograph: David W Cerny/Reuters
Roger Federer won the inaugural Laver Cup for Team Europe on Sunday, beating back a fierce challenge from players from the rest of the world to claim the trophy in a dramatic final match of the weekend.
Despite cruising through the first two days, the Europeans needed the last match to finalise the victory and show the dominance expected from a team featuring five of the world's top seven players.
Federer delivered in a tight 4-6, 7-6(6), 11-9 win over world number 20 Nick Kyrgios, with the Australian pushing to the final point as he sought a win that would have forced an overtime doubles match to decide the tournament.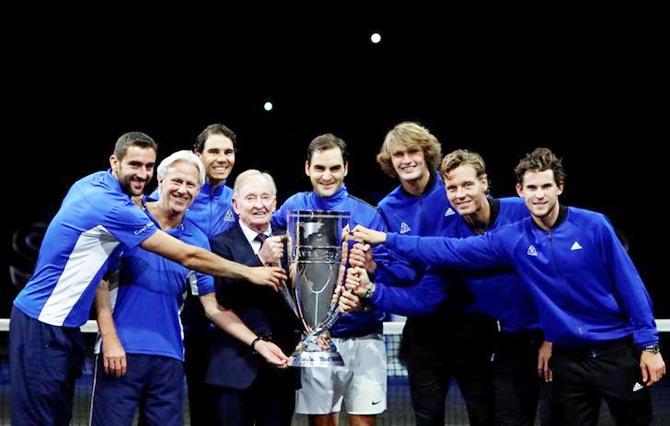 IMAGE: Members of Team Europa pose for a picture after winning the Laver Cup. Photograph: David W Cerny/Reuters
But Kyrgios squandered a chance at match point and then smashed the ball into the net to end the battle, spurring Federer's European team mates, led by top-ranked Rafael Nadal, to leap off the bench and embrace the Swiss at the net.
"I was ready to go. I had to be. That is what a team member does. The boys played fantastic all weekend but we knew it could change very quickly on Sunday," Federer said.
"I was looking at getting ready maybe for doubles at the end... But I got it done."