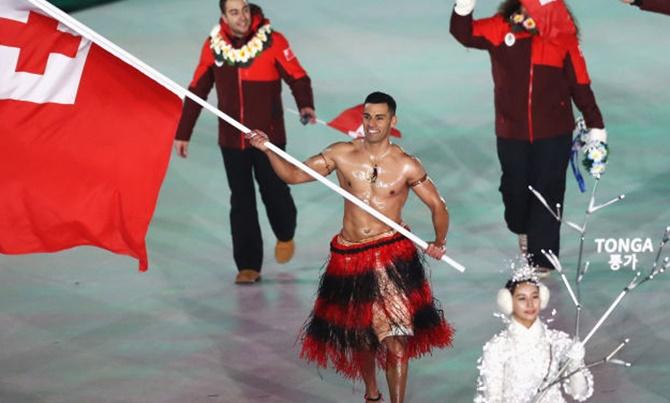 IMAGE: Tonga's shirtless flag bearer Pita Taufatofua leads the team during the Opening Ceremony of the PyeongChang 2018 Winter Olympic Games. Photograph: Ronald Martinez/Getty Images
Biting winds and freezing temperatures can make it hard to strike a balance between looking cool and staying warm at South Korea's Winter Olympics.
With Pyeongchang shaping up to be the coldest Games in decades, furry hats, thick puffer coats and neck warmers are a necessity, but can be stylish too.
Canadian short track speed skater Jamie Macdonald is very happy with her red and black parka which has "Canada" emblazoned across the chest and a white maple leaf on the back.
"I feel like it really embodies the Canadian spirit and I think we all look really good too, so that's a huge plus," she told Reuters Television.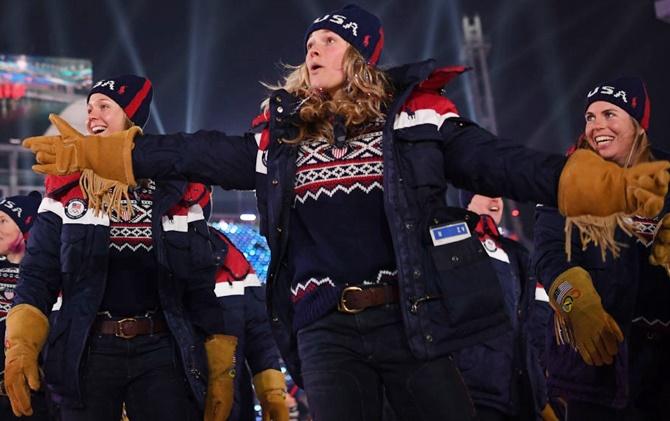 IMAGE: Team USA opening ceremony oversized, light brown leather gloves, made quite a fashion statement. Photograph: Quinn Rooney/Getty Images
Other athletes say comfort is as important as looking good.
"I think it works well," said Sarah Forster, a Swiss ice hockey player wearing black track pants and a red and white parka with the Swiss cross.
"Usually we always wear jeans to go to work. To be able to walk around in a tracksuit for three weeks, that's good too," she said.
At Friday's icy opening ceremony where teams marched in colourful uniforms in the parade of nations, few could match Tonga's topless flag-bearer Pita Taufatofua.
The 34-year-old cross-country skier was cheered when he emerged from the tunnel covered in body oil and wearing a grass skirt, sandals and a huge smile.
"Tonga's shirtless flag bearer has done it again," said a headline on Twitter. (http://reut.rs/2G8pGUr)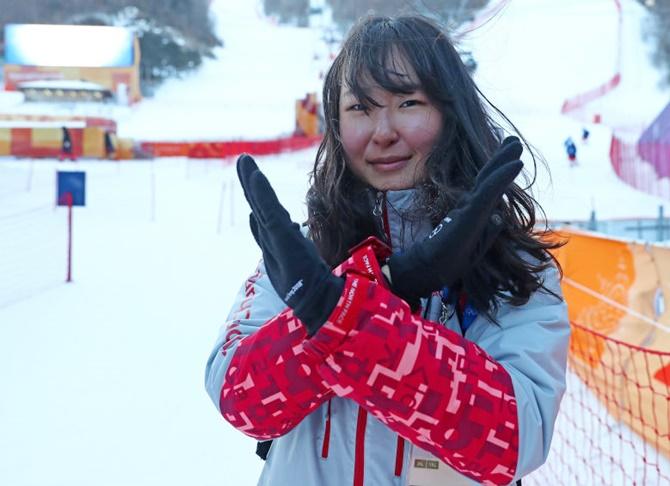 IMAGE: A volunteer poses for a photo after the Ladies' Giant Slalom was postponed due to strong winds. Photograph: Alexander Hassenstein/Getty Images
By far the most common outfit is the pink and grey worn by the army of volunteers deployed across the venues in Pyeongchang and the coastal town of Gangneung.
Yoon Gun-woo, a South Korean volunteer at the Gangneung Olympic Park, said he liked the job but the uniform was a bit too garish for his taste.
"It's the colour of meat. It feels a bit strange," he said.