I'm a serial winner, says Conte as he awaits Chelsea decision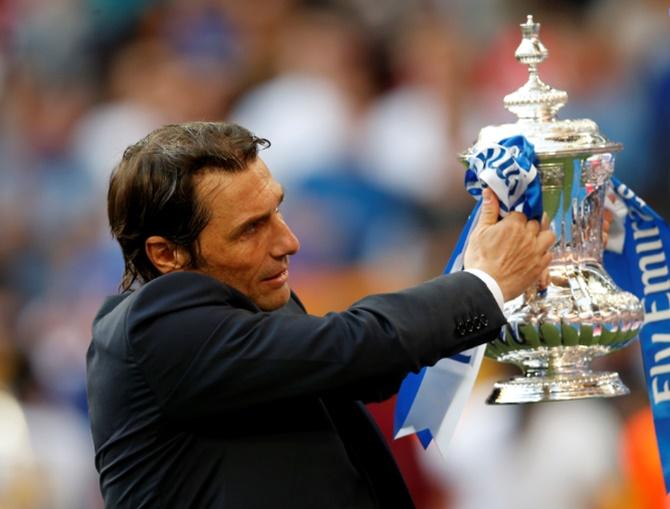 Chelsea coach Antonio Conte declared himself 'a serial winner' after leading his side to a 1-0 victory over Manchester United in the FA Cup final on Saturday and said it was up to the club to decide whether to fire him.
Conte won the Premier League with Chelsea in the 2016-17 season, his first in England, racking up a then record-breaking 30 victories in the process.
But the Londoners ended this season in fifth place and missed out on a Champions League spot, leading to speculation that the Italian would become the latest of almost a dozen managers to be dismissed by Chelsea in the last 15 years.
"I am the first to accept every decision for the future. Because after these two seasons I will always love this colour, these fans, this club. And also if my future must be in a different way," Conte told reporters.
"I think that after two years, the club knows me very well. If they want to continue to work with me, they know me. I can't change," he said.
The 48-year-old former Italy midfielder and coach - who won three Italian league titles in charge of Juventus - was an instant hit with the Chelsea fans, who loved his full-throttled passion for the game that sometimes saw him dive into the crowd to celebrate goals.
He quickly banished grumbles about the departure in the previous season of former boss Jose Mourinho, Chelsea's most successful manager ever.
Chelsea fans chanted his name long and loudly on Saturday.
But Conte's relationship with the lieutenants of Chelsea owner, Russian oligarch Roman Abramovich, grew strained almost as soon as the celebrations of last year's triumph ended.
Conte made clear he was unhappy about being sidelined from many of the club's transfer decisions, something he brought up again after Saturday's win.
"To miss the Champions League, for sure is not good for a club like Chelsea," he said. "But at the same time, I think you have to know the situation at this moment to understand this group of players did their best in this season."
Asked whether he felt personal satisfaction after securing a last-gasp trophy this year, he said it had been a difficult -- but ultimately successful -- campaign.
"When you have this type of season, there are moments when you have a lot of questions for yourself. But also in a difficult season like this, I showed that I am a serial winner."
Mourinho on defensive as United fluff shot at salvation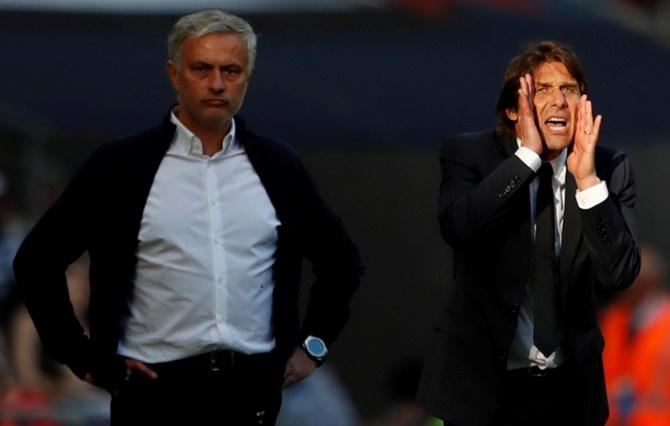 Jose Mourinho had a gilt-edged chance to end a season spent in Pep Guardiola's shadow with a statement FA Cup final win on Saturday but ended up explaining away a limp display that will invite more criticism from the Old Trafford faithful.
Favourites against a Chelsea side who finished fifth in the Premier League and who look poised to part company with manager Antonio Conte, United only released the handbrake when it was too late and lost 1-0 at Wembley.
Although Mourinho was deprived of Romelu Lukaku in his starting side after the big Belgian striker declared himself not 100 percent fit, United boasted England duo Jesse Lingard and Marcus Rashford, Alexis Sanchez and record signing Paul Pogba.
For 45 minutes, however, they were invisible as an attacking force.
United did not manage a shot on target in the first half and although they did cut loose in the second with some sustained pressure, Chelsea held on for a deserved victory.
Mourinho tasted only his third defeat in 15 showpiece cup finals as a manager in Portugal, England, Italy and Spain while United ended a season trophy-less for the third time in the five campaigns since Alex Ferguson retired.
Having won the Europa League and League Cup in his first season at Old Trafford, Mourinho engineered a significant Premier League improvement by finishing second this season, albeit 19 points behind Guardiola's magnificent Manchester City.
For a manager who has won 20 major trophies with Porto, Chelsea, Inter Milan, Real Madrid and United, defeat at Wembley would have been hard to swallow.
What is more, it provides ammunition for those United fans who argue Mourinho's pragmatic footballing philosophy is at odds with the club's DNA, especially with Guardiola's City slickers scoring a record 106 Premier League goals.
No wonder Mourinho arrived for his post-match media duties in glum mood and his demeanour was not helped by a malfunctioning microphone that was about as effective as his forward line during the first half at Wembley.
Bizarrely he began by congratulating his side's defending and demeaning Chelsea's display.
"Our team did a fantastic defensive job without defending..." Mourinho said. "They only played long balls to (Olivier) Giroud to flick and then Hazard to get second balls in individual actions.
"So when you play against a team so predictable, it is quite easy to adapt to it. The image of the game is that David de Gea did not touch the ball. He touched it to get it out of the net."
United did dominate possession (66 to 34 percent) and had 18 goal attempts to Chelsea's six but Sanchez and Pogba struggled to make an impact -- Sanchez having one effort ruled out for offside and Pogba heading a good chance wastefully wide.
Mourinho eventually replaced World Cup-bound Lingard and Rashford with Lukaku and the out-of-favour Anthony Martial in a desperate attempt to salvage the situation.
But asked why Lukaku could not start, Mourinho's reply was pithy.
"When a player tells you he's not ready to play, when a player tells you that he is not ready to start, then the question is how many minutes do you think you can (play)," he said.
"But how can I convince a player that tells that he is not ready to play?"
Mourinho, unlike Conte in all probability, will be in charge come August, but those disgruntled United fans who bolted for the exit at fulltime will demand much better next season.