'…it feels very surreal. It feels like an out-of-body experience. I feel like I'm back here watching this going on, it's not really happening'
'It's the greatest feeling ever. I'm grateful to God, I'm grateful for my car finishing and really, to everyone'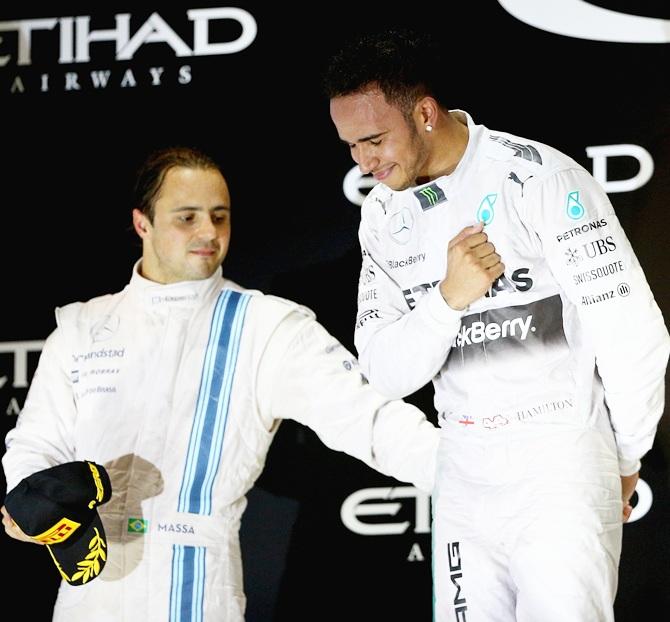 Lewis Hamilton of Great Britain and Mercedes GP celebrates on the podium next to Felipe Massa of Brazil. Photograph: Clive Mason/Getty Images
Lewis Hamilton declared Sunday the greatest day of his life after ending a thrilling season with his second Formula One world championship.
How father's mantra guided Hamilton to become World Champion
Hamilton takes second F1 title in style
If winning the first title with McLaren after a last-gasp move in Brazil in 2008 was special, then the triumph under the Abu Dhabi floodlights was something else again.
"The feeling I have now is way, way past that and above and beyond," the Mercedes driver said with tears in his eyes.
"It's the greatest feeling ever. I'm grateful to God, I'm grateful for my car finishing and really, to everyone, thank you so much," added the Briton.
Hamilton went into Sunday's race 17 points clear of team mate Nico Rosberg but with the German on pole position and an unprecedented double points on offer.
Everything hung on a knife-edge, one mechanical failure or mistake liable to make the difference between elation and despondency.
The Briton had made several errors in qualifying, enough to prompt the team's non-executive chairman Niki Lauda to suggest the 29-year-old might not be sleeping too soundly on Saturday night.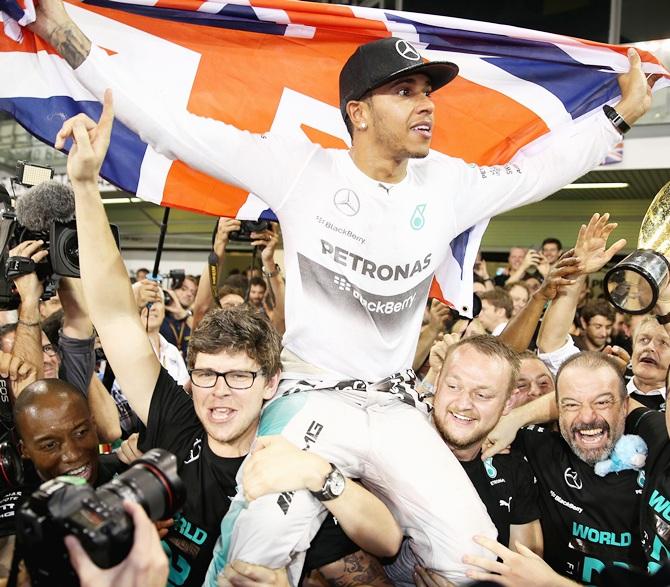 Lewis Hamilton of Great Britain and Mercedes GP celebrates with his team. Photograph: Clive Mason/Getty Images
Hamilton had insisted he would sleep like a baby but the reality was very different. He was nervous, tense at what the day might hold.
"Niki was right, I didn't sleep last night. I went to bed at about 1 am and woke up at like 5 am," he admitted.
"I thought for sure I'm going to be tired when it gets to the race but somehow I felt composed."
Hamilton made the start of his life, rocketing off the line and away before Rosberg could react.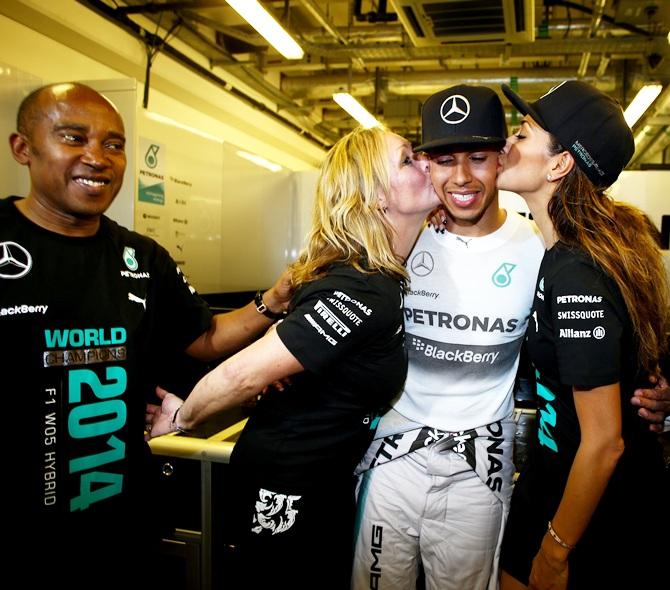 Lewis Hamilton of Great Britain and Mercedes GP celebrates with his stepmother Linda Hamilton and girlfriend Nicole Scherzinger after winning the World Championship. Photograph: Mark Thompson/Getty Images
At the finish, with Rosberg out of the points and wrestling with engine troubles, he lapped the floodlit circuit with the British lag fluttering from the cockpit.
The win was his 11th of the campaign, with Mercedes winning a record 16 in total, and made him the first British double champion since Jackie Stewart in 1971.
"This has been an incredible year. I just cannot believe how amazing this has all been," he said.
"This is the greatest moment in my life...it feels very surreal. It feels like an out-of-body experience. I feel like I'm back here watching this going on, it's not really happening."