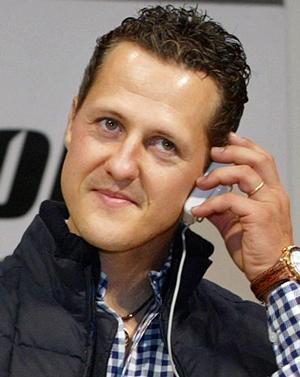 Formula One has moved on since Michael Schumacher retired in 2006, even if the German will be eager to roll back the years when he makes his comeback with Mercedes next season.
Despite turning 41 next month, the seven times world champion can be expected to show the same passion for racing, the same hunger for winning and the same ruthless determination.
"I was tired of Formula One by the end of 2006...but after three years of absence I am sort of getting back all the energy and I'm feeling strong right now," he told reporters on Wednesday. "I played around with motorbikes, and I feel ready for some serious stuff."
Age will be against him, another foe to overcome for a driver who always prided himself on being one of the fittest and most professional on the grid, but nobody should rule out what would be a remarkable return to the top.
He is teaming up again with close friend Ross Brawn, the technical director who guided him to all his titles with Benetton and Ferrari, and that won eight of the 17 races last season as well as both championships.
Mercedes will also feel like home, the future champion having started out in sportscars with the German carmaker.
"If I can win a race when I was 37 in a Jordan, then Michael can definitely win a race in a Ross Brawn car at 41," commented 1996 world champion Damon Hill recently.
Schumacher said he was thrilled to be back and still felt "absolutely on the edge.
"This year, when I got back in a go-kart, I was straight away on the pace. I have to prove it, of course, but all the people (at Mercedes) have no doubt about my ability."
OLD RIVALS
Brazilian Lucas di Grassi, making his debut with Virgin Racing next season, has seen that for himself after competing against Schumacher in a recent karting event in Brazil that the German won.
"He's the most competitive guy that I know," said Di Grassi recently. "Everybody I know goes there (to the karting event) to have a good time and enjoy it and have fun. Michael goes there and spends two hours making a seat one millimetre higher."
Schumacher can expect no favours from rivals nearly half his age, men eager to measure themselves against a true great.
Kimi Raikkonen, his immediate successor at Ferrari, has moved to rallying but the German will find his previous nemesis Fernando Alonso at the wheel of the red car that he once commanded.
It was Alonso who won the last two championships that Schumacher competed in and the Spaniard has only grown in experience since then.
Britain's 2008 world champion Lewis Hamilton had not even made his debut when Schumacher hung up his helmet in Brazil in 2006, and nor had this year's runner-up and fellow-German Sebastian Vettel.
Current champion Jenson Button, Schumacher's direct predecessor at Brawn/Mercedes, is almost unrecogniseable from the challenger of a few years back.
The sport is moving back to the Formula One that Schumacher entered in 1991, with reduced budgets and privately-owned teams in a majority. The manufacturer domination is on the wane, with Honda, BMW and Toyota all leaving in the last year.
There is no testing and powerhouses like Ferrari and McLaren will have to slim down under agreed cost-cutting measures.
Mercedes are ahead of the game there, with Brawn already in fighting trim following their emergence from the remains of departed Honda, and their engine was the best of 2009.
"Our sporting ambition has always been that Michael should drive again where his professional career had started and Michael knew that," said Mercedes motorsport vice-president Norbert Haug on Wednesday.
"We often joked about it after the races and discussed the prospect seriously several times during the last 14 years in Formula One.
"It didn't happen in 1995, it didn't happen in 1998 and it didn't happen in 2005. I am delighted that it will now happen in 2010."