Sahara Force India drew a blank from the Formula 1 Malaysian Grand Prix after Sergio Perez and Nico Hulkenberg finished 13th and 14th at the Sepang International Circuit in Malaysia on Sunday.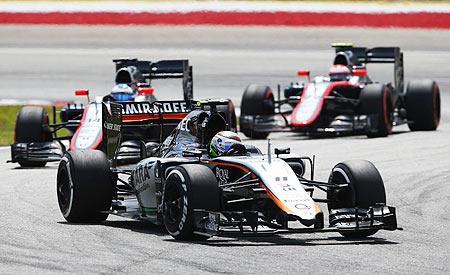 Force India, who are relying more on reliability than pace in the early part of the season, were not competitive enough here. The Silverstone had done well for a double points finish at Melbourne.
Hulkenberg jumped to seventh from 13th on the grid with the entry of Safety Car in the opening few laps.
Later on, both Hulkenberg and Perez were handed a 10 second penalty for a contact with Romain Grosjean and Daniil Kvyat respectively, ending all hopes of finishing in the top-10.
"It was a tough afternoon and I was always kept very busy with lots going on around me," said Hulkenberg.
"I was really struggling with the general balance and the car was sliding around, especially as the tyres became older.
"We chose not to pit during the early safety car, which gave me good track position, but it was not an easy decision. We were trying to make the two-stop strategy work, but it just wasn't possible with the degradation and so we switched to three stops.
"Perhaps it would have been better to commit to the three-stop earlier, but I'm not sure it would have changed the result that much. The penalty for the contact with Daniil [Kvyat] also dropped me out of the fight for points," added the German.
Perez said: "We knew ahead of the race it would be a big fight to get close to the points and it turned out to be just the case. I struggled with degradation in my first stint, on mediums, and that cost me a lot of time after the Safety Car.
"We had slightly better pace with the hard compound, but in the end it was not enough to get back in contention. The penalty didn't help us either."
Image: Sergio Perez of Mexico and Force India drives during the Malaysia Formula One Grand Prix at Sepang Circuit in Kuala Lumpur, Malaysia, on Sunday
Photograph: Mark Thompson/Getty Images