News of all that's transpired on and off the football field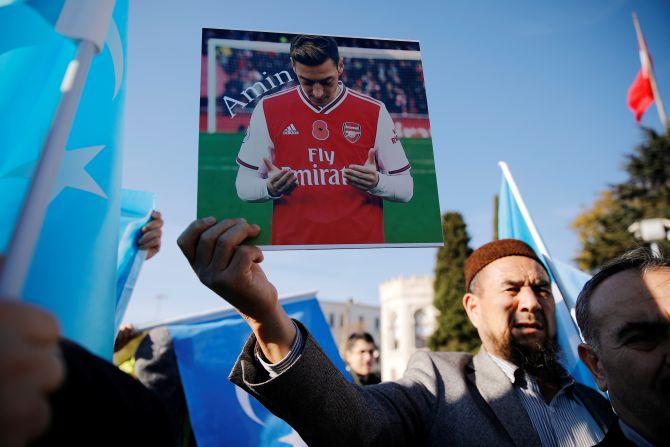 China's state broadcaster CCTV on Sunday removed Arsenal's Premier League game against Manchester City from its broadcast schedule following Mesut Ozil's messages that criticised the country's policy towards its Muslim Uighur minority.
The Global Times Newspaper said on its Twitter account on Sunday that CCTV took the decision after midfielder Ozil's comments on Saturday had "disappointed fans and football governing authorities".
Ozil's posts called Uighurs "warriors who resist persecution" and criticised both China's crackdown and the silence of Muslims in response.
"(In China) Qurans are burned, mosques were closed down, Islamic theological schools, madrasas were banned, religious scholars were killed one by one. Despite all this, Muslims stay quiet," Ozil, who is a Muslim, said in his posts.
An Arsenal spokesman told Reuters that they had no official statement on the issue after CCTV's decision to show a taped game between Tottenham Hotspur and Wolverhampton Wanderers instead of the originally planned fixture.
CCTV did not immediately respond to a request for comment.
Arsenal on Saturday tried to distance itself from Ozil's comments after he posted messages on Twitter and Instagram.
"The content he expressed is entirely Ozil's personal opinion," the official account of Arsenal said in a post on China's Twitter-like Weibo platform.
"As a football club, Arsenal always adheres to the principle of not being involved in politics."
The club's Twitter account did not have a post addressing Ozil's comments as of Sunday morning.
Replies to Arsenal's Weibo post were angry, with one showing a shredded Ozil soccer jersey next to a pair of scissors and others demanding he be expelled from the club.
A search on Weibo for the hashtag translatable as "Ozil issues inappropriate statement", which had been one of the top trending topics on the platform, returned no results on Saturday afternoon.
Weibo frequently censors discussion of sensitive topics, particularly amid a push by Beijing to clean up its internet.
The Chinese Football Association told government-backed news outlet, The Paper, on Saturday it was "outraged and disappointed" by Ozil's remarks, describing them as "inappropriate".
"Ozil's comments are undoubtedly hurtful to the Chinese fans who closely follow him, and at the same time his comments also hurt the feelings of Chinese people. This is something we cannot accept," the news outlet quoted an unnamed official from the association as saying.
The United Nations and human rights groups estimate that between 1 million and 2 million people, mostly ethnic Uighur Muslims, have been detained in harsh conditions in Xinjiang as part of what Beijing calls an anti-terrorism campaign.
China has repeatedly denied any mistreatment of Uighurs.
Trent Alexander-Arnold terms Jurgen Klopp a 'world-class' manager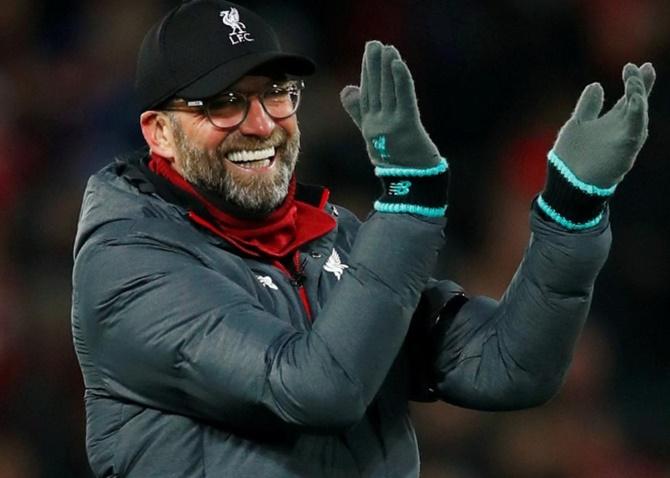 Liverpool's Trent Alexander-Arnold lauded coach Jurgen Klopp by calling him a 'world-class' manager.
"He has showed he is a world-class manager, if not the best in the world. He has done special things for the club and obviously the fans all love him," the club's official website quoted Alexander-Arnold as saying.
Under the leadership of Klopp, Liverpool are placed at the top of Premier League table with 49 points. In this season's Premier League, the club has not faced even a single defeat so far.
Klopp, who was inducted in the League Managers Association's Hall of Fame last month, extended his contract until 2024 with Liverpool on Friday.
Alexander-Arnold said Klopp's contract extension is a good thing for them.
"We're grateful to have a manager like him and obviously the more years he can spend here, the better it is for the club. So, it's really good for us to get a few more years out of him," he said.
Klopp hails Gomez as Liverpool defence gets back on track
Liverpool manager Juergen Klopp has praised centre back Joe Gomez's partnership with Virgil van Dijk for helping to get the Premier League leaders' defence back on track as they embark on a busy run of fixtures.
Liverpool extended their lead at the top of the table to 10 points after beating Watford 2-0 on Saturday, with Gomez and Van Dijk helping them keep back-to-back Premier League clean sheets for the first time this season.
Gomez has only recently returned to a regular starting role due to injuries to Dejan Lovren and Joel Matip, Liverpool's two other recognised centre-backs, and Klopp is pleased with his impact.
"These two, Joe and Virg, they like each other a lot, and can play sensationally well together," Klopp said.
"This outstanding skilled boy (Gomez) ... hasn't played consistently for a while. He has improved a lot."
Gomez and Dutch international Van Dijk formed a formidable partnership last season before the Englishman was ruled out of the second half of the campaign with a broken leg.
The 22-year-old has started only three Premier League games this season, but Liverpool have kept clean sheets in two of those -- their consecutive league wins over Bournemouth and Watford --taking their total for the season to four.
"In a very good team ... the train doesn't wait," Klopp added.
"That means other players showed up (when Gomez was injured).
"The boy is still young, that is not the reason (why he has not played regularly) - it's just that you keep rhythm and you keep players together."
Liverpool are next in action against Aston Villa in the League Cup on Tuesday and play Mexican side Monterrey in the semi-finals of the Club World Cup in Qatar on Wednesday.
Oman fire Dutch coach Koeman
Dutchman Erwin Koeman has been fired from his role as Oman head coach, the country's football association announced following a disappointing performance at the Gulf Cup.
Oman went into the competition as defending champions having won the keenly contested regional title two years ago under Koeman's late compatriot Pim Verbeek.
But Koeman, who replaced Verbeek at the helm earlier this year, was unable to lead his team to the knockout rounds of the competition, missing out on a place in the semi-finals on goal-difference.
"After discussing the recommendations of the technical committee and evaluating the participation of the national team in the 24th Gulf Cup in Qatar, the board decided to end the services of Koeman as head coach of the national team," the Oman Football Association said in a statement on Twitter.
The Omanis started the defence of their title with a 0-0 draw against eventual champions Bahrain before defeating Kuwait. However, a loss to Saudi Arabia in their final group game saw them exit the competition.
Oman are currently in second place in their qualifying group for the next round of eliminators for the 2022 World Cup finals, where they trail Asian Cup holders Qatar by a point.