News of all that's transpired on and off the football field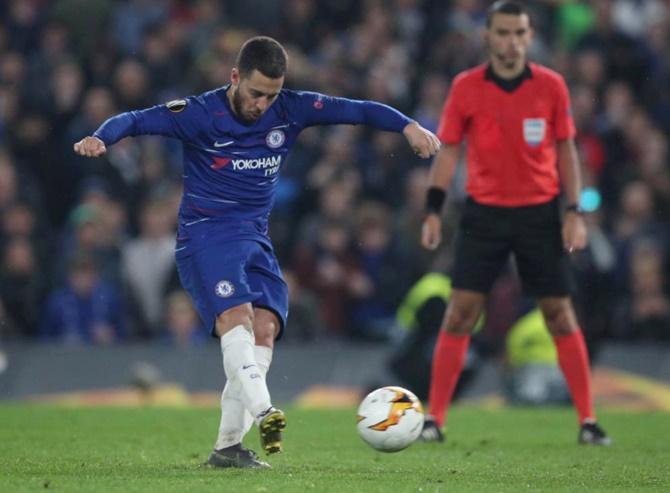 Eden Hazard says he will do everything in his power to help Chelsea win the Europa League later this month in what might be his final game for the Premier League club.
The skilful Belgian playmaker converted the decisive spot-kick in the 4-3 shootout win over Eintracht Frankfurt on Thursday that sent Chelsea into the final against fellow London club Arsenal in Baku on May 29.
The 28-year-old is expected to leave Chelsea at the end of the season after seven years at Stamford Bridge, with British media linking him with a move to Real Madrid.
"If it's my last game I will try to do everything for this club to win a trophy," Hazard told BT Sport.
"In my mind I don't know yet, I don't think about that. I'm only thinking about winning something for this club and this squad.
"We played a great game but the semi-final is not so easy. We are happy and we will go to Baku to try to win the trophy."
With Chelsea playing away at Leicester City on the final day of the league season, the penalty could be Hazard's last kick of a ball at Stamford Bridge but he knows there remains a big job to do in Azerbaijan.
"I always take my responsibility when I have to," said Hazard, who has 19 goals this season.
"Today we are happy but it's not finished. We have another game to play against Arsenal. We need to go there and play with quality and win the game."
Neymar handed three-match ban for fan altercation in Cup final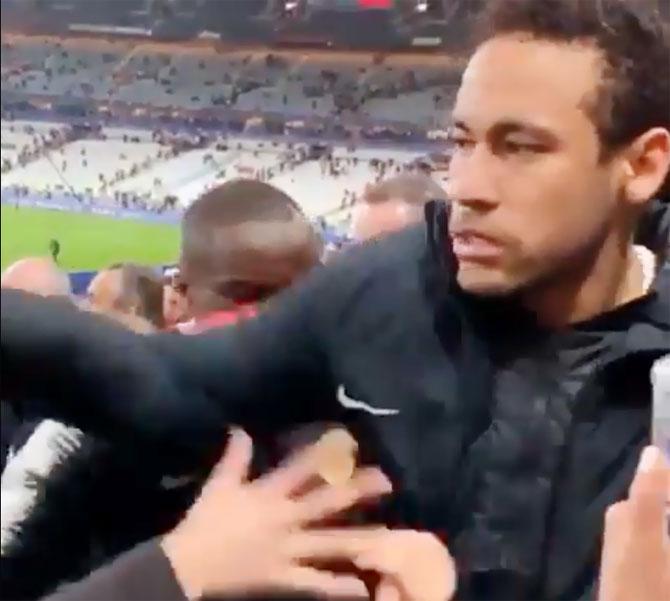 Paris St Germain forward Neymar has been handed a three-match ban and an additional two-match suspended ban for an altercation with a spectator following their French Cup final loss to Stade Rennes last month, the French Football Federation said.
PSG lost 6-5 on penalties after Rennes rallied from two goals down to draw 2-2 and the frustrated Brazilian appeared to jab at a spectator who tried to record him on his mobile phone as he went up to collect his runners-up medal.
Neymar's suspension will begin on Monday, which means he will be eligible for Saturday's Ligue 1 match against Angers. He will miss PSG's final two league games against Dijon and Reims.
The 27-year-old will also miss the opening match of the new season, the annual Trophee des Champions match against Rennes in August. However, the suspended ban will allow him to play the next two games after.
Neymar has already been suspended for three Champions League games for insulting match officials following the French side's elimination in the quarter-final.
PSG were also fined 35,000 euros ($39,326) after their fans used lasers and fireworks during the match.
Barca forward Suarez to undergo knee surgery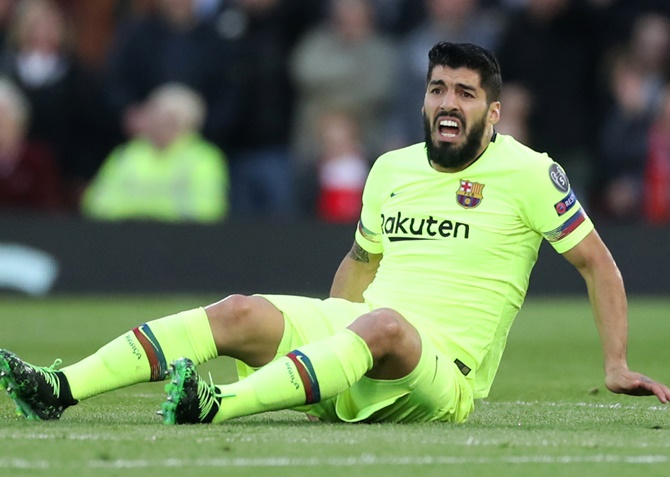 Barcelona striker Luis Suarez is to undergo arthroscopic knee surgery to treat a medial meniscus injury, the club said on Thursday.
Barca have not specified how long their number nine will be out for as he recovers from the procedure, but he is likely to miss the La Liga champions' two remaining league fixtures against Getafe and Eibar.
It remains to be seen whether Suarez will be fit for the Copa del Rey final against Valencia on May 25.
The Uruguayan, who has scored 25 goals in 49 matches in all competitions this season, played the full 90 minutes as Barca were spectacularly knocked out of the Champions League by his former club Liverpool, who overcame a 3-0 semi-final first-leg deficit to progress 4-3 on aggregate on Tuesday.
La Liga posts record financial figures
Spain's football league, La Liga, announced on Thursday that their clubs had posted a record revenue of 4.479 billion euros ($5.01 billion) for the 2017-18 season.
The number marks a 20.6 percent growth from the previous campaign (3.6 billion euros) and therefore becomes the best in the competition's history.
Crucially, it has not been bloated by a new TV deal given the figures come from the second of a three-year domestic cycle on audio-visual rights, which will come up for renewal in the 2019-20 season.
The current figure of audio-visual turnover surpassed the 1.5 billion euro mark for the first time in this set of financial results.
Commercial revenue - up 34.1 percent with a 838m euro turnover - and revenue from player transfers - up 104.3 to 1.02 billion - were the two main contributors to the league's strong annual growth, with higher sums forecast next year.
La Liga's professional structure means it produces an impact on Spain's national GDP equivalent to almost 1.4 percent, employing 185,000 people both directly and indirectly with a tax contribution of more than 4 billion euros per year.
Bayern on the brink of seventh straight Bundesliga crown
Bayern Munich are 90 minutes away from securing a record-extending seventh straight Bundesliga crown on Saturday, snatching the title away from Borussia Dortmund with a game to spare.
The Bavarians, nine points behind then leaders Dortmund at the end of year, will clinch the title if they win at RB Leipzig, having opened up a four-point lead following consecutive slip-ups by their title rivals in the past weeks.
They will also be crowned champions if they get the same result as Dortmund, who face Fortuna Duesseldorf without their suspended captain Marco Reus.
"We are convinced that we will be the champions," said Bayern's Joshua Kimmich, who has set up 12 goals for his team mates.
But he warned Leipzig, with the league's best defence and fastest counter-attacks this season, will be hard to break open.
"They let in very few goals and have great speed in their team. They always look to play deep with Yussuf Poulsen and Timo Werner," said Kimmich.
Poulsen and Werner have scored a combined 31 goals, half of their 62-goal haul.
Victory at Leipzig, who have already secured third place and a Champions League spot next season, would mean Bayern winger Franck Ribery, leaving at the end of the season after 12 years, will become the only Bundesliga player to have won nine league titles.
It will also be a personal success for coach Niko Kovac, whose team's early-season dip in form almost cost him his job in his first year in Munich.
Their early Champions League exit further increased pressure on Kovac, who can still win the domestic double with the German Cup final awaiting on May 25.
With the team set to renew in the summer following the departure of Ribery and fellow winger Arjen Robben and the potential exit of several more players, including Jerome Boateng, Bundesliga victory would be a nod to a winning generation at Bayern.
Dortmund have only a slim chance of winning their first league title since 2012 and they need all three against Fortuna together with a Bayern slip-up. Bayern have 74 points, Dortmund are on 70.
At the other end of the table Nuremberg (19 points) and bottom club Hanover 96 (18) are with their backs to the wall and will be relegated if they fail to win against Borussia Moenchengladbach and Freiburg respectively.
VfB Stuttgart, in 16th on 24, will make sure they hold on to their relegation/promotion playoff spot with a point against VfL Wolfsburg.
Ronaldo rubbishes Super League idea, defends Barcelona season
Former Brazil striker Ronaldo has rubbished the idea of a European Super League replacing the Champions League, suggestingthat Europe's top clubs are using it as a means of extracting more money for themselves.
European soccer's governing body UEFA this week met with representatives from some of the continent's major clubs to discuss the proposal of replacing the elite competition with a league featuring promotion and relegation.
But in a week where Liverpool and Tottenham Hotspur produced stunning comebacks to reach the Champions League final in Madrid, Ronaldo suggested that any new tournament would struggle to replicate the kind of excitement currently on offer.
"I personally don't think there will be a European Super League. What they've managed to achieve with what the Champions League represents today is something that would take so much time to even get close to," said the Brazilian, who is president of La Liga side Real Valladolid, at a news conference.
"I think that very soon there'll be an agreement in which the biggest clubs will start receiving more and more money and they'll be happy with that.
"For me it would be a stupid idea to try and create a new competition given all the success that we've seen in the Champions League."
Ronaldo, who scored 34 goals in 37 appearances for Barcelona between 1996 and 1997, also defended his former club's season following their dramatic collapse at Anfield.
"Look at the season they're having. They've reached the semis of the Champions League, won La Liga with a number of games to go, they're in the final of the Copa del Rey and that's not something you can just forget and throw away," he said.
"Football is incredible and unpredictable - you can't explain it. Barca had some chances but didn't take them and you have to say Liverpool deserved it. They showed more strength, intensity, and emotional intelligence.
"You saw Barca were caught cold for the fourth goal, but if Liverpool hadn't scored in that moment I think they would have still scored another later on, that's how the game was going."