News of all that's transpired on and off the football field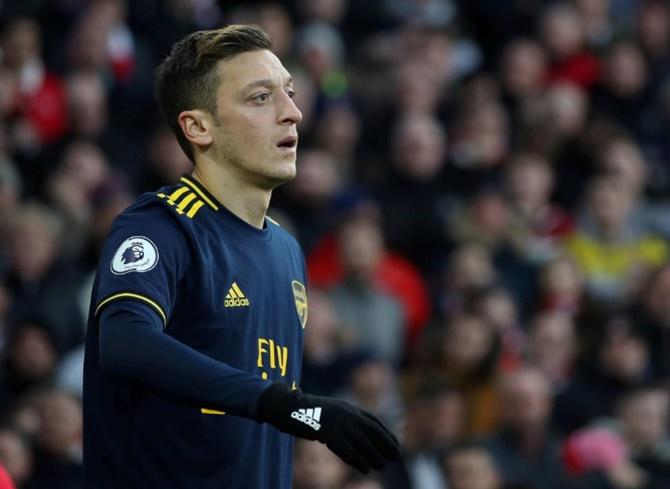 China's state broadcaster CCTV on Sunday removed Arsenal's Premier League game against Manchester City from its broadcast schedule following Mesut Ozil's messages that criticised the country's policy towards its Muslim Uighur minority.
The Global Times Newspaper said on its Twitter account on Sunday that CCTV took the decision after midfielder Ozil's comments on Saturday had "disappointed fans and football governing authorities".
Ozil's posts called Uighurs "warriors who resist persecution" and criticised both China's crackdown and the silence of Muslims in response.
"(In China) Qurans are burned, mosques were closed down, Islamic theological schools, madrasas were banned, religious scholars were killed one by one. Despite all this, Muslims stay quiet," Ozil, who is a Muslim, said in his posts.
An Arsenal spokesman told Reuters that they had no official statement on the issue after CCTV's decision to show a taped game between Tottenham Hotspur and Wolverhampton Wanderers instead of the originally planned fixture.
CCTV did not immediately respond to a request for comment.
Arsenal on Saturday tried to distance itself from Ozil's comments after he posted messages on Twitter and Instagram.
"The content he expressed is entirely Ozil's personal opinion," the official account of Arsenal said in a post on China's Twitter-like Weibo platform.
"As a football club, Arsenal always adheres to the principle of not being involved in politics."
The club's Twitter account did not have a post addressing Ozil's comments as of Sunday morning.
Replies to Arsenal's Weibo post were angry, with one showing a shredded Ozil soccer jersey next to a pair of scissors and others demanding he be expelled from the club.
A search on Weibo for the hashtag translatable as "Ozil issues inappropriate statement", which had been one of the top trending topics on the platform, returned no results on Saturday afternoon.
Weibo frequently censors discussion of sensitive topics, particularly amid a push by Beijing to clean up its internet.
The Chinese Football Association told government-backed news outlet, The Paper, on Saturday it was "outraged and disappointed" by Ozil's remarks, describing them as "inappropriate".
"Ozil's comments are undoubtedly hurtful to the Chinese fans who closely follow him, and at the same time his comments also hurt the feelings of Chinese people. This is something we cannot accept," the news outlet quoted an unnamed official from the association as saying.
The United Nations and human rights groups estimate that between 1 million and 2 million people, mostly ethnic Uighur Muslims, have been detained in harsh conditions in Xinjiang as part of what Beijing calls an anti-terrorism campaign.
China has repeatedly denied any mistreatment of Uighurs.
How VAR has changed Klopp's touchline behaviour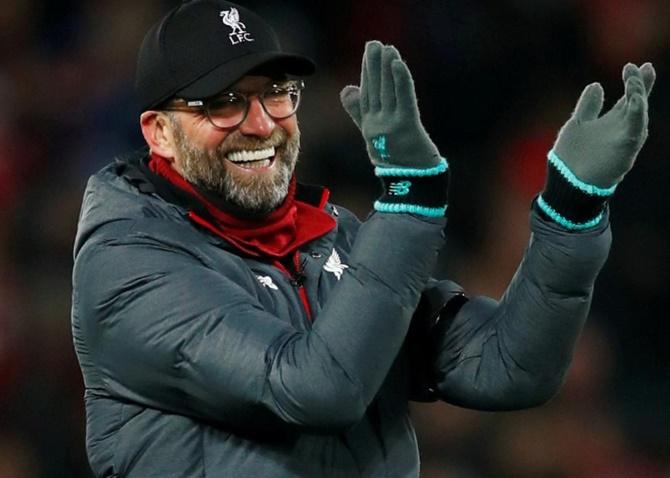 Liverpool manager Juergen Klopp said he waits to celebrate goals on the touchline because of the Video Assistant Referee (VAR), after Sadio Mane's effort was ruled out for offside in Saturday's 2-0 Premier League win over Watford.
Mane thought he had put Liverpool ahead 2-0 with a glancing header after Mohamed Salah had scored the opener, but the goal was ruled out as the VAR deemed that the Senegal international forward was marginally offside.
"I don't celebrate goals anymore because you have to wait until somebody says it is a goal," Klopp told reporters.
"As you can imagine, when you're winning 2-0, I'm not too concerned about it. I had no clue where it was offside.
"I thought there was one pass before where maybe it was offside, but that Sadio was offside I couldn't see."
The use of VAR, where match officials use video replays to check decisions by the referee on the pitch and flag possible mistakes, has been surrounded by controversy in recent months.
Critics say the system goes far beyond its original remit and that decisions are taking too long while UEFA President Aleksander Ceferin said last week that the technology had changed the character of football.
Liverpool's victory thanks to two superb goals by Salah left the league leaders 10 points ahead of their nearest challengers Leicester City, who were held 1-1 at home by Norwich City.
Lampard wants Chelsea players to show more personality
Chelsea manager Frank Lampard said he understood the frustration of supporters after his side failed to excite them once again in their 1-0 Premier League home defeat by Bournemouth on Saturday.
Lampard's fourth-placed team suffered their fourth loss in five games with midfielder Dan Gosling sealing all three points for the visitors, who ended their five-match losing streak.
Former England international Lampard said that his youthful team, which had racked up a string of victories earlier in the campaign, lacked the urgency and personality needed to carve open struggling Bournemouth.
"In front of our fans we're not playing well enough and getting enough results," Lampard told reporters.
Chelsea suffered a similar 1-0 home defeat against West Ham United last month and were comprehensively beaten 3-1 at Everton after another lacklustre performance last weekend.
"The fans shouldn't be excited if we're playing 10 balls across our back four. That's not a team I want to manage," Lampard added.
"Some responsibility is on the players to excite them and have the personality to take the ball and beat someone."
"I can't find anyone wanting in terms of how we apply ourselves but what we do on the pitch is the main thing, and at the moment it's not good enough."
Lampard's side visit London rivals Tottenham Hotspur next Sunday, before hosting relegation-threatened Southampton and travelling to Arsenal later this month.