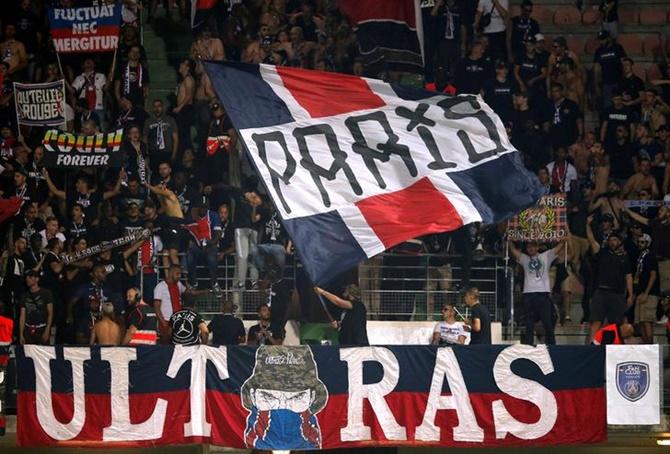 French Football Federation President Noel Le Graet said he wanted referees not to interrupt matches in case of homophobic chants, despite new rules introduced by the FFF this season that permit such interruptions.
"I would not stop the games -- totally against this," Le Graet told French radio France Info on Tuesday.
Asked if referees would follow his request in this weekend's matches, Le Graet said: "I hope so.
"We will make sure there are no more (homophobic banners and chants). But stopping a game? - No."
Several Ligue 1 matches have been briefly interrupted by referees this season because of homophobic chants in the stands, in accordance with new rules the FFF enforced this season.
The president does not have the authority to instruct referees to go against the new rules.
The rules were publicly supported by sports minister Roxana Maracineanu, who last week said she was "astonished" by previous comments from Le Graet that "too many matches" had been stopped because of incidents of homophobia.
FIFA, US Soccer sued by promoter in anti-trust case
The US Soccer Federation (USSF) illegally conspired with football's governing body FIFA to prevent foreign clubs and leagues from holding competitive matches in the United States, a lawsuit filed by a sports promotions company alleged on Monday.
Relevent Sports, LLC, the company that organised the International Champions Cup this summer, claimed FIFA and the USSF worked together to stop it from bringing regular season games to North America from leagues such as Spain's La Liga.
"This boycott has deprived fans of international soccer in the U.S of the opportunity to attend Official Season International Soccer Game Events in the US and is a blatant anti-trust violation," the filing in US District Court in New York, seen by Reuters, said.
Emails to FIFA, Major League Soccer and US Soccer seeking comment on the suit were not immediately returned.
Although some of Europe and South America's biggest clubs play friendly matches in the United States and elsewhere, they cannot play regular season matches there.
Relevent tried to bring games from the Ecuadorean league as well as a high-profile Barcelona vs Girona match to the United States but was blocked, Relevent said.
"The US Soccer Federation continues to be delinquent in its responsibility to promote the growth of soccer, by instead protecting the bottom line of its business partner, Soccer United Marketing, the marketing arm of MLS," said Relevent's CEO Daniel Sillman, referring to the US professional men's league, Major League Soccer.
US Soccer chief executive Flynn to step down next week
Longtime US Soccer Chief Executive and Secretary General Dan Flynn, who is credited with turning around the finances of the federation, will step down from his position on Sept. 16, the governing body said on Monday.
Flynn, 64, came aboard as US Soccer's chief executive in 2000 when it was struggling financially and went on to overhaul the federation's business framework which ultimately helped grow a substantial reserve for future endeavours.
"His steadfast leadership has been invaluable and drove the sport to new heights," said US Soccer President Carlos Cordeiro.
"Dan can look back on his tenure knowing that our Federation and soccer in America is stronger than ever because of his dedicated service."
During his tenure Flynn also led the development of soccer facilities to help grow the game in the United States and led the effort to open the new National Soccer Hall of Fame Experience in Frisco, Texas, last year.
A former executive with brewing giant Anheuser-Busch, Flynn was also involved in the successful staging of the 2003 Women's World Cup on an expedited timeline.
"The honour of serving US Soccer has been a privilege and experience of a lifetime," said Flynn.
"None of what we've been able to accomplish over my time here would be possible if not for the people within our organisation - past and present - who shared my belief and love for what the sport of soccer means and can do here in the United States."
While the search for Flynn's successor moves forward, US Soccer's board of directors named Chief Stakeholder Officer Brian Remedi to the additional position as Chief Administrative Officer to ensure the smooth continuity of operations.