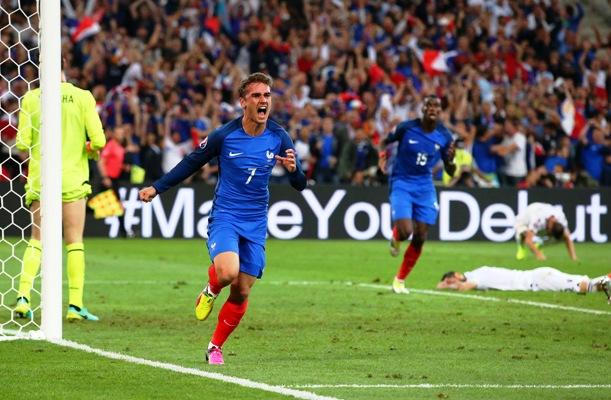 IMAGE: Antoine Griezmann celebrates after scoring. Photograph: Alex Livesey/Getty Images.
Following his heroics against World champions Germany in the semi-final at Marseille, France striker Antoine Griezmann has emerged the clear favourite to bag the 'Golden Boot' at the 2016 European Championship.
Griezmann fired a brace to take his tournament tally to an astounding six goals.
Such is his dominance in the tournament that the French magician leads Portugal hero Cristiano Ronaldo (3 goals) by a double margin in the tournament's goal's tally.
Griezmann's teammates Olivier Giroud and Dimitri Payet are also on three goals, but they trail Ronaldo as they both hace two assists to their names as compared to the Portugal captain's three.
Griezmann also moved to fourth on the Euro all-time scoring list with Sunday's final against Portugal still to come. He Ronaldo (9), Michel Platini (9) and Alan Shearer (7).
Only Platini, who scored all his goals in 1984 on home soil, has ever registered more in one tournament than the Atletico Madrid striker.
Golden Boot race:
1) Antoine Griezmann (6 goals and 2 assists)
2) Cristiano Ronaldo (3 goals and 3 assists)
3) Olivier Giroud (3 goals and 2 assists)
4) Dimitri Payet (3 goals and 2 assists)