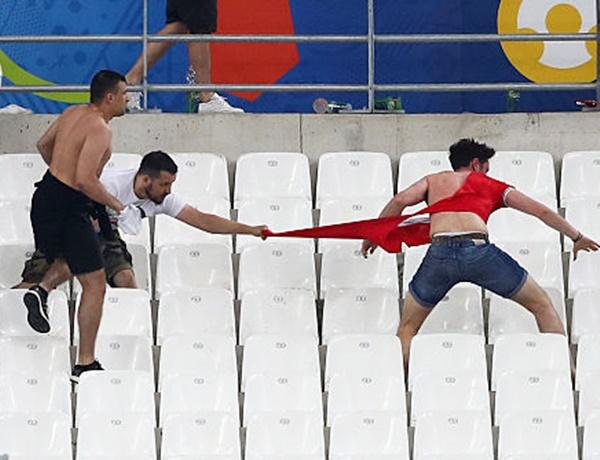 IMAGE: Fans clash after the Euro Group B match between England and Russia. Photograph: Lars Baron/Getty Images.
Before the Euro 2016 in France, there was a threat from terrorism but the maximum damage was done by football fans.
And the English fans who are known as the perpetrators and instigators became the victims of hooliganism.
Rampaging football fans have opened up a new sporting crisis for Russia as it battles doping scandals and doubts about the World Cup that it will host in two years.
Sanctions that UEFA is considering against Russia over pitched fights, racist chants and fireworks hurled around the European Championship game against England have been a new blow to Russia's reputation.
Images of fans preparing for battle with gumshields and batons, charging through Marseille's old town with chairs over their heads ready to throw have gone around the world.
UEFA have threatened England and Russia with disqualification from Euro 2016 if there is a repeat of the unrest.
Russia's Sports Minister Vitaly Mutko has predicted his country will merely be fined.
But there is a lot of damage limitation to be done. Mutko is already struggling with international enquiries into doping in Russian athletics and other sports.
The International Association of Athletics Federations is to decide on Friday whether to readmit Russia into international competition so it can take part in the Rio Olympics in August.
Swiss prosecutors are also still probing how Russia was awarded the 2018 World Cup as part of their look at FIFA's affairs.
Mutko knows he has a job on his hands to convince the football world that all will be well in 2018.
Russia's fans 'are disgracing the country and think this is normal,' he said.
"As hosts of the future world championship, we must preserve our image and people shouldn't spoil it," he added.
A draft law submitted to parliament last month that would set up a blacklist of violent fans who would be barred from sporting events.
"Some people won't like this of course, it is extra money for stadiums, but security is the most important thing," the head of the Russian lower house of parliament's sports committee, Dmitry Svishchev told R-Sport news agency.
However some Russian fans and officials have indicated they do not care what foreign bodies do or think.
Igor Lebedev, a member of the Russian Football Union executive and a deputy speaker of the Russian parliament, encouraged the country's fans to fight England rivals.
Hooliganism experts in Europe have worries about the World Cup.