'Whenever I get time I watch Hindi movies along with my friends in Ethiopia. I love and enjoy Hindi movies.'
IMAGE: Almaz Ayana celebrates winning the women's 10000 metres gold at the 16th IAAF World Athletics Championships 2017 in London. Photograph: David Ramos/Getty Images
She can't quite recollect the names of either the films or the actors but Ethiopia's World and Olympic 10,000m champion runner Almaz Ayana says Bollywood movies are her favourite indulgence whenever she gets some time to herself.

Ayana is a big fan of Hindi movies as she watches subtitled Bollywood movies at her base -- Ethiopian capital Addis Ababa. She is in India to participate in the Delhi Half Marathon on Sunday.
The 25-year-old 10,000m world record holder is making her debut in half marathon (21.097 km). Basically a track runner, the Delhi event will be Ayana's second road race of her career after the 10,000km race in Angola way back in 2010.

"Whenever I get time I watch Hindi movies along with my friends in Ethiopia. I love and enjoy Hindi movies. The movies are subtitled and I watch them in Addis Ababa," Ayana said.

"It's difficult to pronounce the names of films or the actors. But I think I have watched more than five Hindi movies. I enjoy watching them and I love India," said Ayana who is coached by her husband.

So, Ayana did not hesitate in agreeing to run in New Delhi when asked by her friends.

"Many people told me it is a prestigious one among half marathons. After the World Championships in London (in August), there were not many quality long distance races for me and so I wanted to try this road race in Delhi," she said.

Ayana has been in stunning form on track in both the 5000m and 10,000m races in the last two years. She won a 5,000m gold in the 2015 Beijing World Championships and then added a silver in the London Worlds in August.

In her pet event of 10,000m, she won a gold in Rio Olympics in a world record time of 29:17.45 seconds and added a gold in the London World Championships.

She was voted the 2016 IAAF Woman Athlete of the Year and she is again one of the three finalists this year. The winner will be announced in Monaco on November 24.

"I am going to run for the first time in India and this is my half marathon debut. I want to run a good time. It is a strong field with other Ethiopians and Kenyans running. I cannot say whether I will win or not.

"Anything can happen in a race. It is a new territory for me but I am optimistic of a good run as I have prepared well for this race," she said.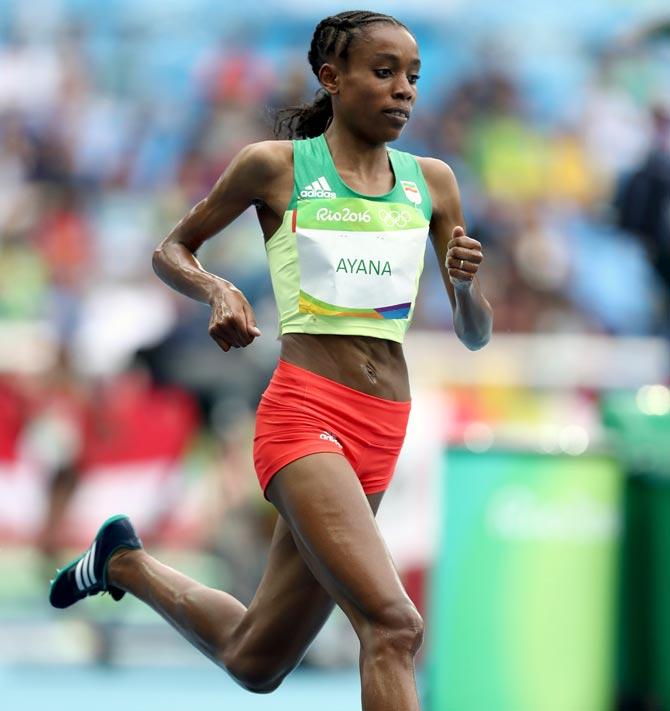 IMAGE: Almaz Ayana celebrates winning the women's 10000 metres gold at the 16th IAAF World Athletics Championships 2017 in London. Photograph: David Ramos/Getty Images
Ayana, however, said she is not contemplating running half marathons regularly in addition to the 5000m and 10,000m.

"I am not running any half marathon this season for sure. About running (half marathon) in future, let me run this Delhi Half Marathon and let us see what happens."

Ayana, who stands at five feet and five inches, ran the second fastest 5,000m race of all time in Rome in June last year and she says she wants to break the nine-year-old world record which stands in the name of compatriot and idol Tirunesh Dibaba.

"10,000m is my favourite event but I want to do well in the 5,000m also. I want to break the 5,000m world record one day, that is my dream. I want to have both the world records (5,000m and 10,000m). I hope I will do that in the near future."

She failed in her bid for a double gold in the London World Championships and had to settle for a silver in the 5,000m after winning the 10,000m race.

"It was not a disappointment. I had some some problems (injury) in the 5,000m race and despite that I won a silver," said Ayana, who also won a bronze in 5,000m race in Rio Olympics along with the 10,000m gold.

Ayana is also not bothered by the pollution level in Delhi which has led to calls from some quarters of postponement of the race.