Bobby Moore's grandchildren led the teams out before West Ham United played Tottenham Hotspur in the Premier League at Upton Park on Monday as his former club marked the 20th anniversary of his death.
Poppy, 21, Freddie, 16, and 13-year-old Ava placed the ball on the spot for the kickoff at Upton Park and fans of both clubs provided an impeccably-observed minute's applause for England's 1966 World Cup-winning captain who died of cancer aged 51 on February 24, 1993.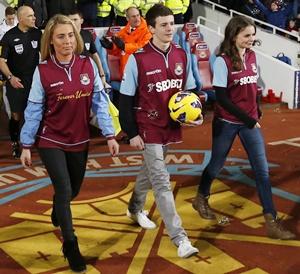 West Ham fans also held aloft cards making up a mosaic reading "Moore 6".
Moore's family, club officials and supporters gathered to pay tribute on Sunday with Moore's former West Ham and World Cup-winning team-mate Martin Peters and club co-chairman David Gold attending a wreath-laying ceremony at the World Cup "Champions" statue near West Ham's ground.
"He was our England World Cup-winning captain, but also more personally for all of us here at West Ham, a legend at our club and always will be," Gold said.
"It was great to see so many West Ham fans turn out in what was bitterly cold weather. But they wanted to pay their respects to a man we hold very dear at this club."
Moore played 646 times for West Ham between 1958 and 1974, leading them to victory in the 1964 FA Cup final and 1965 European Cup Winners' Cup final.
Caption: The grandchildren of former West Ham United and England captain Bobby Moore, Poppy are led out onto the pitch before the EPL match between Tottenham Hotspur and West Ham United at Upton Park stadium on Monday. West Ham is marking the twentieth anniversary of Moore's death to cancer in 1993.
Photograph: Eddie Keogh/Reuters