Arsenal are confident striker Robin van Persie will sign a new contract at the end of the season and finish his career at the club, manager Arsene Wenger said on Friday.
"My desire and my wish is to find an agreement with Robin to extend the contract and (he will) stay with us for (a) longer time... and hopefully we can reach that," Wenger said.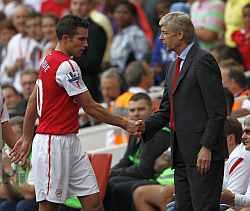 "If that would not happen we still want him to stay but I am more focused on the first situation."
"I think what is important for us is that 90 percent we find an agreement (for him) to be happy and to stay and finish his career here," he added.
Netherlands captain Van Persie is the top scorer in the Premier League so far this season with 28.
The 28-year-old has been named Player of the Year by his peers at the PFA and by the Football Writers' Association.
GREAT COMMITMENT
He has one year left on his current deal and is due to discuss a contract extension at the end of the season.
"I cannot guarantee that it will go well, but I am quite confident," added Wenger. "I believe Robin is committed to the club, I feel that the club has shown great commitment to him over the years and put great faith in him.
"I brought him here a long, long time ago and he has developed fantastically well as a man and as a player."
"Today he is a world-class player and he deserves great credit. Hopefully, we can keep him here."
Arsenal are third in the Premier League, one point ahead of Tottenham Hotspur and Newcastle United in the race for third spot and an automatic Champions League qualifying place.
They host Norwich City on Saturday and travel to West Bromwich Albion for their final league match on May 13.