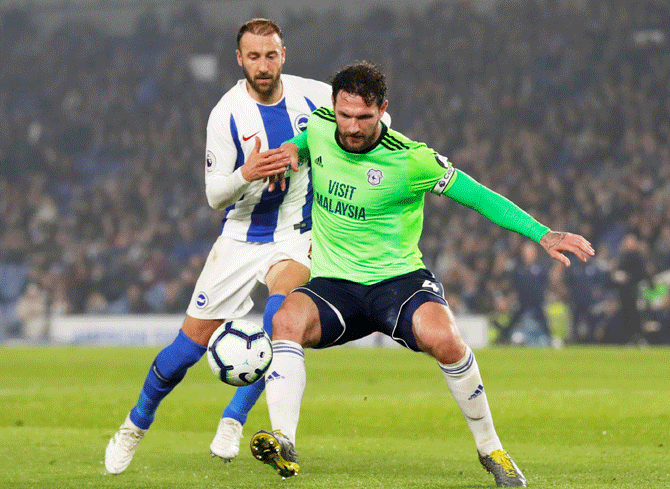 Cardiff City earned a Premier League lifeline when they won 2-0 at Brighton and Hove Albion on Tuesday to close within two points of the south coast club and keep the relegation battle alive.
Cardiff had lost six of their previous seven games but, knowing that anything but a victory would probably end their survival hopes after one season in the top flight, overcame a strong Brighton start to play with growing confidence and fully deserved their victory.
They went ahead after 22 minutes when Nathaniel Mendez-Laing curled in a superb shot from the edge of the box after starting the move inside his own half and playing a neat 1-2 with Junior Hoilett.
Brighton, who made five changes to the team thrashed 5-0 at home by Bournemouth on Saturday, looked edgy and went 2-0 down when Sean Morrison headed in a Victor Camarasa free kick five minutes into the second half - his first goal of the season.
The home team responded as Glenn Murray sent a shot just over the bar but it was a rare chance until the striker sent a close-range header against the woodwork in stoppage time.
Cardiff were then able to celebrate a potentially priceless victory that takes them to 31 points from 34 games, now two behind Brighton on 33 from 33. Southampton are on 36 points from 33, Newcastle United on 38 from 34, while Fulham and HuddersfieldTown are already relegated.
Among Brighton's five remaining games they face Tottenham Hotspur, Arsenal and, on the last day of the season, ManchesterCity.
Cardiff have four to go, including at home to Liverpool this weekend and away to Manchester United to end the season.
Cardiff coach Neil Warnock has spent the last few weeks bemoaning the bad luck and what he considered bad refereeing that cost his team vital points so he was relieved to be celebrating a massive victory.
"We are alive and kicking," he told Sky Sports News.
"We've made it interesting for Sunday. It's better than us being relegated so it's going to be a good game on Sunday (against Liverpool).
"We've got four games left altogether and we've got to do the best we can."
Brighton manager Chris Hughton said: "We are a young team in this division and there are going to be highs and lows and at this moment it's a low, particularly after the last two defeats - both at home.
"But we have no choice but to get on with it, roll our sleeves up and show the quality we've got and get back to what we do best and look to get results.
"It's still in our own hands and that's the way we have to look at it."
Palace keeper showed 'lamentable' ignorance of Hitler
An English Football Association panel that cleared CrystalPalace goalkeeper Wayne Hennessey of making a Nazi salute said in a written report that the player had shown a "lamentable" ignorance of Adolf Hitler and Fascism.
In reasoning published on the FA website, the panel set out why the Wales international was cleared after being pictured with his right arm in the air in a photo posted on Instagram by his German team mate at Palace Max Meyer.
Hennessey had said he was simply raising his right arm to attract the attention of a waiter taking the photograph, while also cupping his left hand over his mouth to make his voice carry.
The photograph prompted an outcry on social media and the FA charged the 32-year-old with a breach of its rules relating to abusive, insulting or improper conduct and bringing the game into disrepute.
In his defence, the South London club produced further photographs showing the goalkeeper making similar gestures during matches while shouting at team mates.
"Mr Hennessey categorically denied that he was giving a Nazi salute," the written reason stated. "Indeed, from the outset he said that he did not even know what one was.
"Improbable as that may seem to those of us of an older generation, we do not reject that assertion as untrue.
"In fact, when cross-examined about this Mr Hennessey displayed a very considerable - one might even say lamentable - degree of ignorance about anything to do with Hitler, Fascism and the Nazi regime."
The report said that while such ignorance was regrettable, it did not mean the player was not telling the truth.
"All we would say (at the risk of sounding patronising) is that Mr Hennessey would be well advised to familiarise himself with events which continue to have great significance to those who live in a free country," it added.
Snodgrass gets one-match ban, fine for abusing anti-doping officials: FA
West Ham United midfielder Robert Snodgrass has been handed a one-match suspension and a fine after being found guilty of misconduct towards UK anti-doping officials, the England Football Association (FA) said on Tuesday.
The Scotland international is alleged to have used "abusive and/or insulting words" towards anti-doping officials who went to West Ham's training ground on Feb. 6 to conduct out-of-competition testing.
The match suspension is not active while the player considers his right of appeal, said the FA, which has also fined the 31-year-old 30,000 pounds ($39,000).
Snodgrass has featured 36 times for West Ham in all competitions this season and has scored four goals.
Everton's Gomes hit with three-match ban after accepting FA charge
Everton midfielder Andre Gomes was suspended for three matches on Tuesday after accepting a Football Association (FA) charge of violent conduct.
Gomes, on loan from Barcelona, appeared to stamp on Fulham striker Aleksandar Mitrovic in Everton's 2-0 Premier League defeat at Craven Cottage on Saturday.
The incident in the 95th minute of the match was missed by referee Lee Probert, but was caught by the FA after a review of video evidence.
Gomes will miss Everton's league games against Manchester United, CrystalPalace and Burnley.
The 25-year-old will be eligible to return for the Merseyside club against Tottenham Hotspur on the final day of the league campaign on May 12.